Beverly Hills faces big fine for failure to conserve water use amid California drought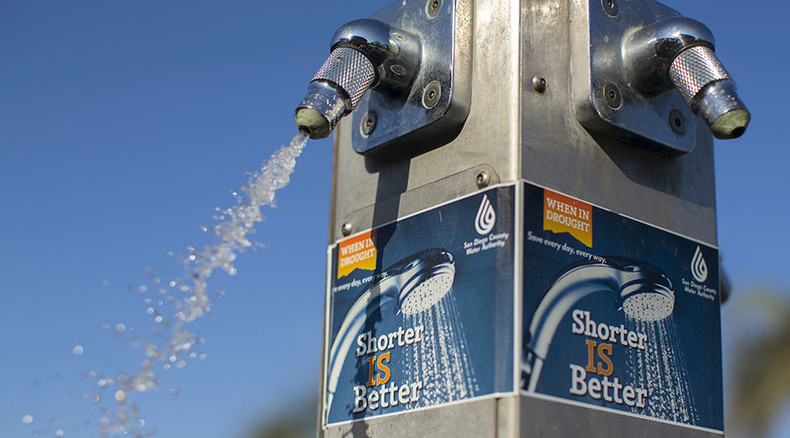 Beverly Hills is in hot water, facing a hefty fine and public shaming for not conserving as much water as drought-stricken California standards require. Alhough the affluent city isn't alone in using too much water, it is the only violator not located in a desert.
"You should be ashamed of yourselves," Chris Carrigan, director of the California State Water Resources Board, said of Beverly Hills locals wasting water in a press conference call. Carrigan also said he was "sure" there were other residents being "very conscientious and doing their part."
It's unclear how Beverly Hills will pay the $61,000 fine. Residents may see an increase in their water bills even if the utility or municipality have reserve funds for such occasions. The same can be said of the three other communities facing the same fine: Indio, Redlands and the Coachella Valley Water District.
In June, Governor Jerry Brown set statewide standards to decrease water usage by 25 percent from 2013 levels, and thus far the state as a whole has surpassed that goal each month, saving 253 billion gallons of water from June to August.
That's no thanks to Beverly Hills dwellers, who on average used 169 gallons each in September, compared to 68 gallons for each Los Angeles resident that month. Beverly Hills, nicknamed "Garden Spot of the World," went over their limit by nearly 175 million gallons of water, Carrigan said.
Beverly Hills never met a single daily goal. September saw Beverly Hills scale back just 20.4 percent of its usage, though the goal was 32 percent. Missing conservation marks accumulates like debt, obligating the city to save even more from one month to the next.
The state water board can fine water districts in violation of drought regulations as much as $500 a day or employ a cease-and-desist order, which comes with a fine of no more than $10,000 a day.
Outrage directed towards Beverly Hills isn't just coming from state officials or fellow Californians, but from members within the community themselves.
"If they were taking it seriously, they would have water police – or water officials, they could make it sound nicer – going around really getting people to cut back on how much water they're using," said 18-year-old Gianmarco Denis, a Santa Monica College student and Beverly Hills resident, to the Los Angeles Times.