Massive 'gash' opens near Wyoming's Bighorn Mountains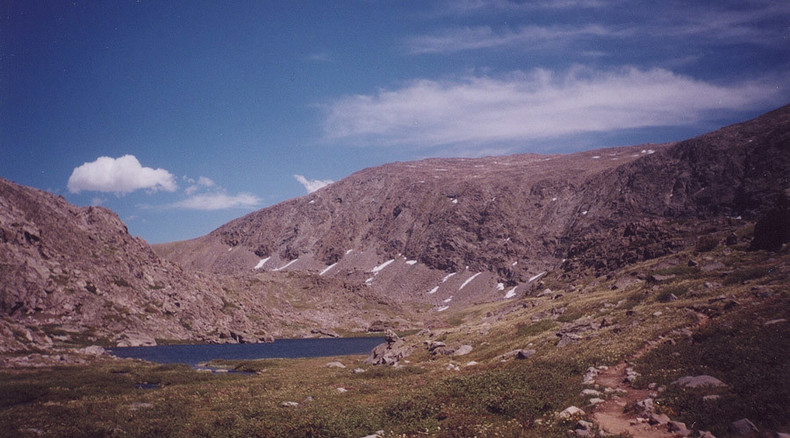 A giant crack in the ground, which is more than seven times longer and as wide as a football field, has been discovered in the foothills of the Bighorn Mountains in Wyoming. Experts say the chasm likely materialized due to a slow-motion landslide.
The crack, measuring about 750 yards long and 50 yards wide, was first discovered on private land by hunters, then reported by hunting company SNS Outfitter & Guides.
This giant crack in the earth appeared in the last two weeks on a ranch we hunt in the Bighorn Mountains. Everyone here is calling it "the gash". It's a really incredible sight.Huntwyo.com

Posted by SNS Outfitter & Guides on Friday, October 23, 2015
"Everyone here is calling it 'the gash.' It's a really incredible sight," SNS wrote on its Facebook page.

The chasm most likely opened following a long-term landslide, according to Seth Wittke, Wyoming Geological Survey's manager of groundwater and geologic hazards and mapping.

"A number of things trigger them, moisture in the subsurface which causes weakness in soil or geology, and any process that would weaken the bedrock or unstabilize it somehow," Wittke said, according to the Powell Tribune.
READ MORE: Nearly half of US population live at risk of damaging earthquake - report
For a more thorough explanation of the crack's origins, a Geological Survey crew would need permission to examine the area.

"All we have seen is pictures since it is on private land," said Chamois Andersen, Wyoming Geological Survey's public information specialist. "It's hard to assess without someone on the ground looking at it."

Andersen said "there is some speculation" that the chasm was triggered by "an early, wet, spring and summer."
READ MORE: Apocalypse Not Now: Yellowstone supervolcano eruption predictable up to 10 yrs in advance

"It is not uncommon to have slides like that," Andersen added.

SNS, meanwhile, said that an engineer was allowed to see the crack, offering a similarly rational explanation for the massive opening.
"Apparently, a wet spring lubricated across a cap rock," SNS wrote. "Then, a small spring on either side caused the bottom to slide out. He estimated 15 to 20 million yards of movement."

Randy Becker, one of the hunters who first found the gash, has shared several photographs of the crack on his own Facebook page.
While hunting this past weekend in the Bighorns, we came across an awesome example of how our earth is not as stable as you might think. Awesome forces at work here to move this much dirt!!

Posted by Randy Becker on Monday, October 26, 2015
You can share this story on social media: