Monsanto backlash? Sugar beet farmers face tough competition from non-GMO products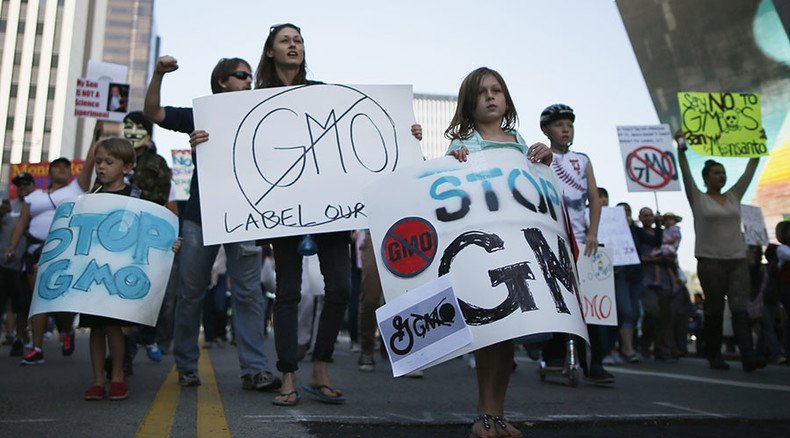 Farmers of sugar beets, often using seeds from Monsanto and others, are seeing their products lose market share due to consumer demand for non-GMO foods. As a result, beet growers will engage in social media campaigning and amplify their lobbying efforts.
This year, 60 percent of the 8.8 million tons of sugar produced in the US will have originated in sugar beets. But in the last fiscal year, the actual share of deliveries to major users and customers dipped under 41 percent, the lowest rate recorded since the US government began keeping track in 1992. Industry heads say the public's negative response to genetically modified organisms is at least partially to blame.
In 2008, beet farmers began switching to a Monsanto seed which brought beet production to an all-time high and greatly downsized herbicide expenses.
"If we had to go back to conventional seeds, our cooperative couldn't survive," Western Sugar Cooperative research agronomist Rebecca Larson told Reuters.
Survival in the sugar market is all the more difficult because big food companies are turning away from GMO foods, and sugar cane has no GMO version. Even though sugar beet producers – mostly located in Michigan, Minnesota, Idaho, North Dakota, and California – are able to help produce sugar that tastes and looks exactly the same, the consumer often isn't buying.
Hershey Company, Chipotle Mexican Grill, Ben & Jerry's, and General Mills are just a few of the brands abandoning GMOs. Those companies also have a younger audience to cater to.
"Millennials care about the ingredients that are in our products," Hershey's director of responsible sourcing, Eric Boyle, told Reuters. "Simple ingredients are a long-term trend. This is where things are going."
Consumers aren't the only ones driving change. Legislators in Maine, Connecticut, and Vermont have passed laws requiring food to be labeled when its ingredients include GMOs. Vermont is the only state with such a law that doesn't come with pre-conditions, and begins enforcing its mandatory labeling law in 2016. The laws in Maine and Connecticut won't be implemented until more surrounding states take up similar labeling laws.
Breaking from their typical unity, sugar cane farmers and sugar beet farmers find themselves with clashing interests when it comes to the turn away from GMOs. Sugar cane growers in Florida, Louisiana, Hawaii and Texas are welcoming their new customers.
Sugar beet suppliers will have to fight their battle alone, and that means getting innovative with social media as well as how they lobby to gain back what they've lost in the market.
The core group behind the social media push will be 18 women recruited by Luther Markwart, executive vice president of the American Sugarbeet Growers Association. They are mainly farmers or wives of farmers who will engage on Facebook and Twitter in an effort to turn public opinion on GMOs, and sugar beets specifically.
One of the women, Laura Rutherford, who farms beets in North Dakota, said the anti-GMO crowd is "trying to drive a wedge between the farmers and the consumers," in a Reuters interview. She joined the group in a trip to Monsanto headquarters in September to hone their social media skills and study GMO technology, Markwart told Reuters.
A related organization, US Beet Sugar Association, is lobbying on Capitol Hill for the biotechnology, spending nearly a million dollars in the first six months of 2015 on issues like labeling, according to Reuters reviews of US Senate records.
You can share this story on social media: