Plane catches fire at Fort Lauderdale Airport in Florida (PHOTO,VIDEO)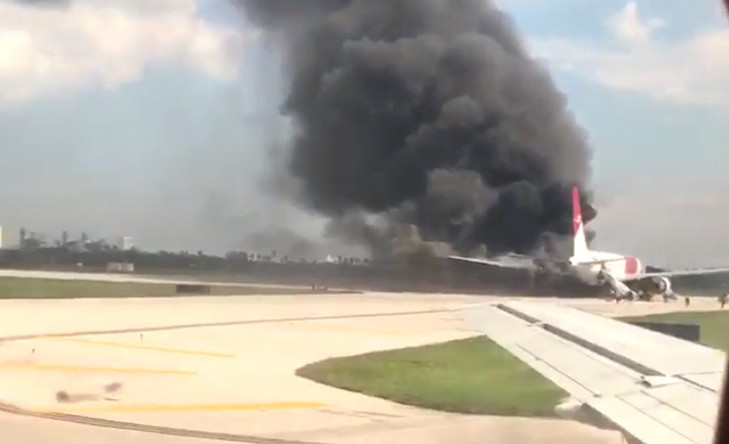 An airplane has caught fire at Ft. Lauderdale-Hollywood international airport in Florida.
All the passengers appear to have been safely evacuated to the terminal building, as emergency crews battled flames on the port-side engine of the Dynamic Airways Boeing 767-200, with the registration N251MY.
The plane appears to have been bound for Caracas, Venezuela.
Dynamic is a privately owned US carrier based in North Carolina.
Dynamic is a privately owned US carrier based in North Carolina. The company has five Boeing 767s in its fleet, and offers flights to Guyana from JFK International Airport in New York and to Maracaibo and Caracas in Venezuela from Ft. Lauderdale-Hollywood in Florida. The service to Caracas began in July 2015.
There were 101 passengers and crew on board Flight 405, Broward Sheriff Fire Rescue spokesman Mike Jachles told reporters. Initial reports mentioned seven injured, but Jachles confirmed that 14 people were taken to local hospitals.
One person suffered burns that were not life-threatening, while the rest had bumps, bruises, sprains or were feeling the stress of the experience, Jachles said, according to the Sun-Sentinel.
All flights out of the airport were suspended about 1:45 p.m. Spokesman Gregory Meyer estimated that several hundred flights will be delayed due to the fire, creating a "domino effect" along the eastern US.