California student body slams high school principal, 3 arrests made (VIDEO)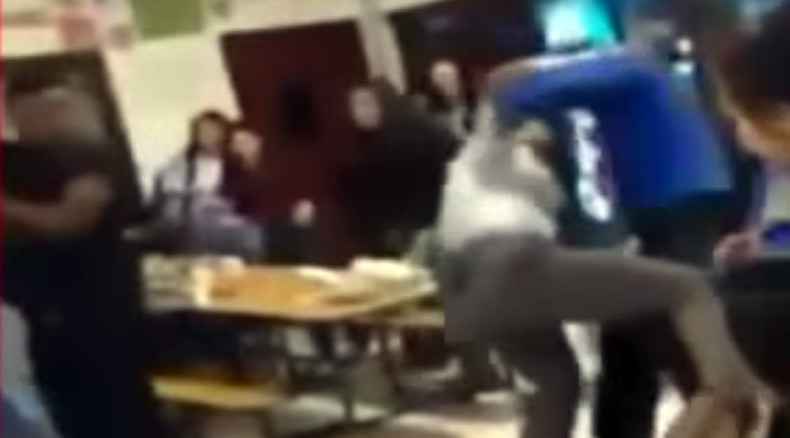 A brawl at Florin High School, Sacramento led to the arrest of three students. Three school officials were injured during the fight, including the principal, who was body slammed into the ground by a student.
"It was like chaos," Marquice Wong, a sophomore at the school told local KCRA. "There were students everywhere fighting. I (saw) school officials getting hurt."
Some of the fight, which occurred on Monday, was caught on video and posted to Facebook and YouTube.
When the fight broke out, it drew a school resource police officer, a school official and Principal Don Ross.
The video shows students gathered around as officials try to break up the fight. There is much screaming and what sounds like punches being exchanged. After trying to restrain a tall student in a blue sweater, Principal Ross was body slammed to the ground. Ross quickly gets back up and grabs the student from fighting again, puts him a hold and draws him to the back of the room, where another officer joins him.
"I see the principal get flipped," said Junior Dezhon Jackson, who saw the fight. "I just see a whole lot of ruckus. A lot of people were just crowding over getting on tables and yelling to fight -- encouraging it."
As a consequence of the brawl, two 15-year-olds and a 13-year-old were arrested and taken to juvenile hall, Sacramento County sheriff's spokesman Sgt. Tony Turnbull told the Sacramento Bee. Two were charged with suspicion of battery on school staff causing injury, and a third was arrested for making threats towards others students and law enforcement.
The fight stemmed from a disagreement in the personal lives of the students, which spilled over into school and got out of hand, according to Elk Grove Unified School District spokeswoman Xanthi Pinkerton. She said one incident involved eight to 10 students and was a relationship-oriented disagreement, while the other involved a student insulting another. Both incidents converged into one.
The sheriff's department said there is a school resource officer assigned to Florin High School. There have been no other fights recently that required law enforcement to step in. However, a quick scan on YouTube shows fights at Florin High School have appeared on social media before.
The body slamming video surfaced just days after another one involving a sheriff's deputy and a student in Richland County, South Carolina. In this video, white officer Ben Fields, who was fired from his job on Wednesday, is shown wrapping his forearm around a black female high school student's neck, flipping her and her desk on the floor backwards, and then tossing her forward before handcuffing her. The girl had allegedly been asked the leave the classroom and had refused.
The incident caused outrage and has led to investigations by the Justice Department, the South Carolina state police, the high school and the Richland County Sheriff's Department.
"From the very beginning that's what's caused me to be upset, and continued to upset me is that he picked the student up and threw the student across the room," Richland County Sheriff Leon Lott said at a press conference Wednesday announcing that Fields was being let go.