SC sheriff fires deputy who slammed black student in classroom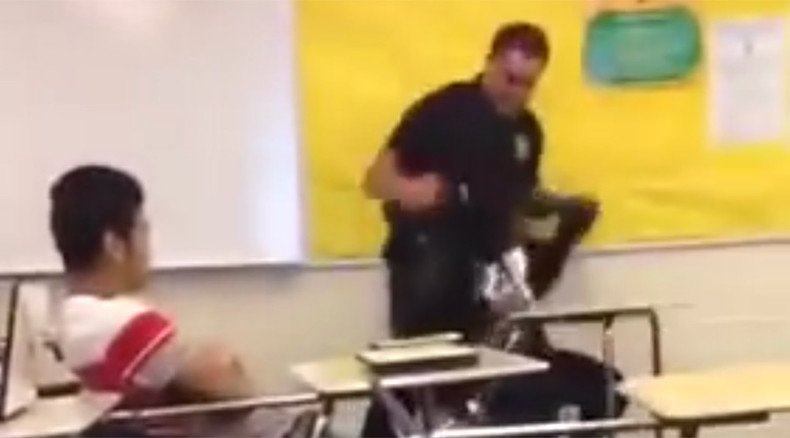 Richland County, South Carolina has fired Ben Fields, the sheriff's deputy recorded using force on an African-American student during a school discipline incident. Footage of Fields throwing the student across the classroom has caused outrage.
"From the very beginning that's what's caused me to be upset, and continued to upset me is that he picked the student up and threw the student across the room," Richland County Sheriff Leon Lott said at a press conference Wednesday, announcing that Fields was being let go.
The department interviewed witnesses and reviewed several cell-phone videos taken in the classroom, and concluded the moves Fields used in the confrontation were "not acceptable."
After talking to Fields, the sheriff said the deputy "tried to do his job," but that he should not have used force against the student. While the teen was non-compliant and disrespectful, Lott said, she was not a danger to the deputy.
"This has been a very difficult situation for all of us," Lott said, urging the community to use the incident as a teachable moment.
"Police officers make mistakes too, and they have to be held accountable. That's what we've done," said the sheriff, adding that the student should also be held responsible for disrupting the classroom.
Fields' attorney, Scott J. Hayes, issued a statement after the officer was let go.
"We believe that Mr. Fields' actions were justified and lawful throughout the circumstances of which he was confronted during this incident," the statement read. "To that extent, we believe that Mr. Fields' actions were carried out professionally and at that he was performing his job duties within the legal threshold."
It went on to say that since the incident is still being investigated, Fields himself would not comment.
Meanwhile, Todd Rutherford, the attorney for the girl who was slammed by Fields, revealed that the student suffered injuries to her face, neck and arm as a result of the incident.
In an interview with the New York Daily News, he also said that the student was recently orphaned and is currently living in foster care. The mother reportedly told the Daily News that the student is "traumatized."
You can share this story on social media: