Myth buster: 12yo Texan incensed after tutor claims God doesn't exist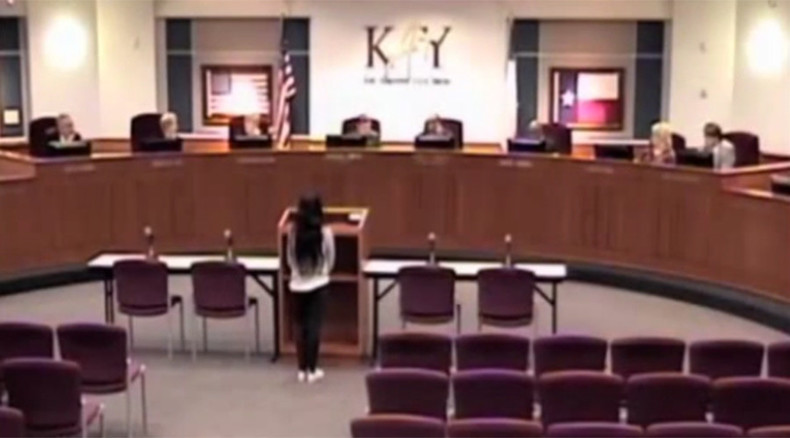 A seventh grade schoolkid in Texas says her teacher forced students to say God was not real if they didn't want to fail a paper. The 12-year-old was incensed that her religious beliefs were being questioned and took the matter to a school board meeting.
The incident took place on October 26 at West Memorial Junior High, west of Houston. During a reading class, the students were told to classify a number of questions as "opinion", "fact", or "myth." One of these questions included asking whether "there is a God."
"Today I was given an assignment that tested my faith and told me that God was not real. We were asked to take a poll to say whether God was fact, opinion or a myth and she [the teacher] said that anyone who said that a fact or an opinion was wrong and God is only a myth," Jordan Wooley told a school board meeting.
The teacher told those who argued her decision "would get in trouble," Wooley said, adding, "When I tried to argue, she told me to prove it and I tried to reference things such as the bible."
Wooley, who is a Methodist, was outraged at her faith being questioned, adding that the teacher would not listen to her argument. Meanwhile, her mother said the teacher should be "dismissed" and appropriate action should be taken.
"I think that the teacher crossed a serious line when she led impressionable minds to write there was no God...that God wasn't real. I think that infringes on my child's rights," Chantel Wooley said, as cited by KTRK TV.
The school issued a statement saying they are aware of the distress caused to the children by the lesson and that the activity had been scrapped, while also defending the teacher in question.
"The teacher is distraught by this incident, as some commentary has gone as far as to vilify her without knowing her, her Christian faith, or the context of the classroom activity," a statement from Katy Independent School District read.
"The school regrets any misconceptions that may have resulted from this teacher-developed classroom activity and assures its school community that the religious beliefs of all students and staff are welcomed and valued at Memorial Junior High," the statement continued.
You can share this story on social media: