No charges filed after gov watchdog finds BLM illegally sold wild horses to slaughter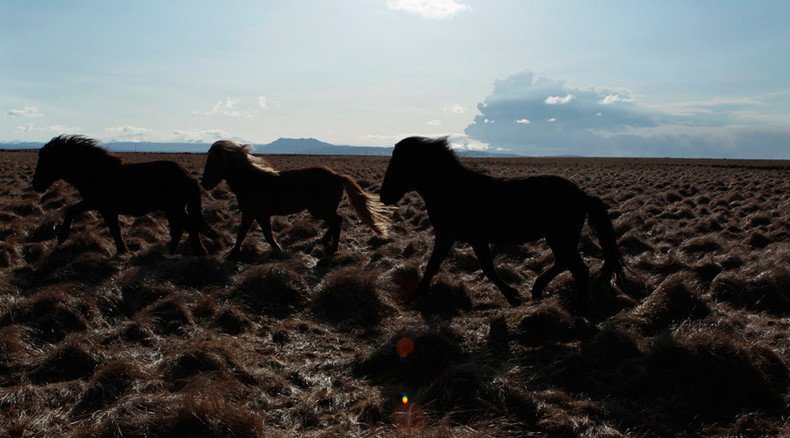 The Bureau of Land Management broke the law when it sold wild horses to a rancher who profited from their slaughter, an Inspector General report has stated. No charges will be filed, despite allegations that BLM ignored clear signs of what was happening.
Tom Davis, a Colorado rancher, purchased 1,794 wild horses from the BLM from 2009 to 2012 at a cost of $10 each, though they came in truckloads. The federally-protected animals were then sold for 10 times as much to a Mexican slaughterhouse, reaping Davis a profit of about $154,000. The butchery violated both the BLM contract as well as the law, according to the IG report.
The BLM actually paid more transporting the horses to Davis than how much he paid for delivery, costing taxpayers $140,000.
The report left further action up to the US Attorney's Office for the District of Colorado and the State of Colorado Conejos County District Attorney's Office. However, both offices decided against filing charges against anyone involved.
"The BLM protects and manages wild horses and burros under the authority of the Wild Free-Roaming Horses and Burros Act of 1971 to ensure that healthy herds thrive on healthy rangelands," reads a message on the BLM's webpage for its Wild Horse and Burro Program. The agency also asks the general public to contact it when they suspect inhumane treatment or slaughter of the animals.
"In selling so many loads of horses, BLM had to know that the horses would end up at the slaughterhouse," Davis told investigators. The rancher was saying something quite different in 2012, telling investigative news site Pro Publica that most of the horses were sold to "good homes," adding there "ain't no way in hell" he would hand over records to back that up.
Eventually, news reports of the mysteriously sold wild horses prompted the government investigation. That probe led to a change in BLM policy. Now a buyer must get special clearance before buying more than four horses at a time.
Sally Spencer runs the wild horse sales program, and in 2012 said the amount of horses Davis bought from her did not warrant a closer look. "It is no good to just stir up rumors," she told Pro Publica.
"[Sally Spencer] still works at the BLM. She still works on the Wild Horse and Burro Program. She got to keep all her bonus checks that she got for selling more horses because there's a culture at the BLM, from the bottom to the top," Deniz Bolbol of the American Wild Horses Preservation Campaign told RT.
"The bosses who gave her financial rewards for selling this many horses knew and I'm gonna tell you how. When you look at Tom Davis's application to purchase these horses, he almost did it like a joke," Bolbol added. "He wrote on one application he was buying horses to send them to Mexico to be in the movies. There's no movie industry in Mexico for horses."
"Everybody knows when you send horses to Mexico, it's for slaughter."
Despite the large sales to Davis, and the BLM's goal of managing the wild horse population rather than grow it, the number of animals rose from 36,940 to 49,209 from 2009 to 2014.
"The tragedy of this whole situation is there's a humane solution that's widely supported by the public at large, and that is to use humane fertility control to curb the population growth," Bolbol told RT.
"They're spending less than 1 percent of their budget" on fertility treatments, Bolbol added. "So basically when you have 50,000 horses on the range and you apply fertility control to a few hundred or a couple hundred horses, that's not gonna make a dent in the population growth, and this is what the BLM's done for years."
Davis had a familiar relationship with Ken Salazar, who as Secretary of the Interior oversaw the BLM at the time of the wild horse purchases. Though claiming to have farmed and trucked for Salazar in the past, Davis's connection was deemed inconsequential in the IG report.
"We determined that BLM did not follow current law while managing WH&B. BLM also failed to follow its own policy of limiting horse sales and ensuring that the horses sold went to good homes and were not slaughtered," the IG report reads.
You can share this story on social media: