Drone delivering contraband crashes into Oklahoma prison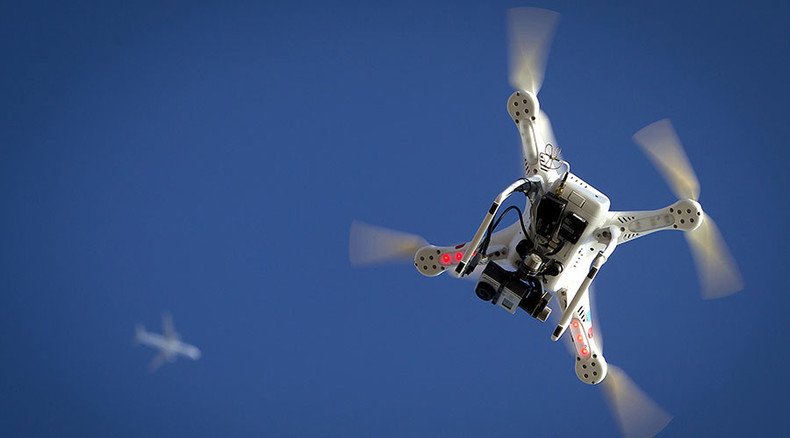 The maximum security Oklahoma State Penitentiary was nearly breached by an unmanned aerial vehicle smuggling drugs and tools in. It crashed into the perimeter's razor-wire. Now, prison officials are stepping up their game in trying to "maintain vigilance."
On Monday at 9:00am, prison guards found the fallen drone upside down. Two 12-inch hacksaws, two packs of Newport cigarettes, two packs of Black & Mild cigars, two tubes of super glue, a mobile phone with a battery and headset, a five ounce bag of marijuana, a bag of 0.8 ounces of methamphetamine, and a bag of under a gram of heroin were all packaged together, hanging by fishing line tied to the drone.
It is unknown who remotely piloted the aircraft or who was waiting for a delivery on the inside. Oklahoma's Department of Corrections (DOC) is holding the drone as evidence in the investigation. Transporting illegal goods into prison is a felony in Oklahoma.
"I applaud and commend the quick action and diligence on the part of the staff who noticed the UAV that entered prison grounds," DOC Director Robert Patton wrote in a press release. "We are continuing to take a broad approach to increasing awareness in dealing with contraband at all of our facilities statewide."
"We must maintain vigilance and stay one step ahead of the game in terms of the technology being used in and around facilities. Nothing is off the table when we are talking about the safety of the public, staff and offenders being housed in our facilities."
Speaking to NewsOK.com, DOC spokesman Alex Gerszewski said, "Right now, we have been talking to other states about how they handle contraband being smuggled onto facility grounds via drone," and that "the DOC is going to continue to find solutions that will fit our specific facility needs. Due to potential security risks we can't go into much more detail than that."
It is the first time such an event involving a drone has been reported in Oklahoma, but it joins several other states which have recently experienced similar trouble with their prisons.
In August, a drone containing tobacco, synthetic marijuana, other drugs and pornography crashed at the Western Correctional Institution in Cumberland, Maryland.
In July, a drone delivery at the Mansfield Correctional Institution in Ohio sparked a fight among inmates. That package contained heroin, marijuana, and tobacco. In May, a wrecked drone carrying marijuana was found at North Central Correctional Institution in Marion, Ohio. And in Janurary at the Franklin Medical Corrections Center in Columbus, a downed drone was found without any contraband.
South Carolina's Lee Correctional Institution in Bishopville was another site of a failed drone delivery in July. It was bringing 55 grams of synthetic marijuana and a cell phone battery. The prison had installed bee hives to deter people from throwing objects over walls, but were forced to consider alternatives in the face of the emerging technology.
Ireland, Britain, Australia and Canada have also reported drone deliveries at prisons.
Flying objects were potential nuisances even before drones became personal-sized. Back in November 2013, at Calhoun State prison in Georgia, a remote controlled helicopter delivering tobacco crashed.
LISTEN MORE:
You can share this story on social media: