School officer uses force against black female student, slams her on floor (VIDEO)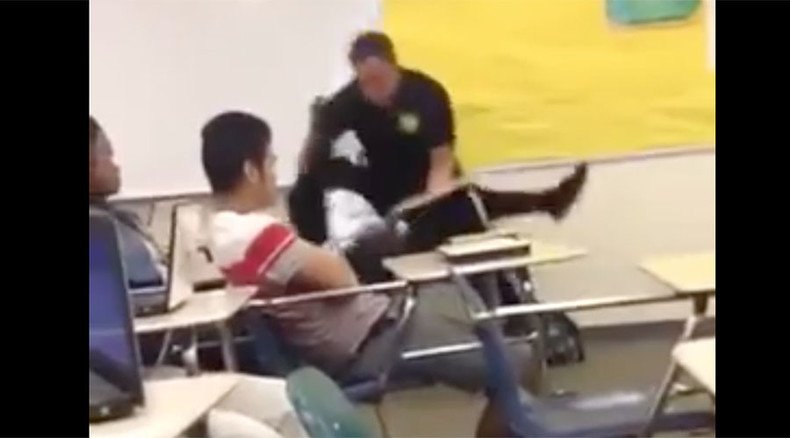 South Carolina police have opened an investigation into a school officer's assault of a black student as a disturbing video is spreading online. The footage captured the officer grabbing a female student, slamming her to the floor and dragging her away.
A South Carolina school officer, identified as Deputy Ben Fields, has now been placed on administrative duty following the incident, local police said. Fields will not be back to work until the investigation is complete, Richland County Sheriff's Department Lt. Curtis Wilson said, according to WLTX 19.
"Our District is deeply concerned about an incident that occurred at Spring Valley High School today. The incident took place between a school resource officer employed by the Richland County Sheriff's Department and a student. Video of the incident is circulating on social media," police said in a statement.
The probe was prompted by a shocking video depicting a confrontation between Fields and a black female high school student. The video appears to have been recorded by other students in the classroom and started spreading online on Monday.
In it, the school officer is seen approaching the girl, who is sitting at her desk. Seemingly giving her no time to respond to any request he might have made, he grabs the teenager under her arms and then pulls her up. He then slams the girl on the floor along with the desk. Fields then is seen dragging her towards the classroom's exit and eventually out of the view of the camera.
In another video, Fields cam be heard ordering the girl to put her hands behind her back.
Spring Valley High School officials have confirmed that the confrontation between their student and the police officer did take place, but refused to provide any specific details.
Sheriff Leon Lott, whose agency is in charge of the school resource program, said Officer Fields was responding to a call regarding a student who refused to leave the classroom.
"The student was told she was under arrest for disturbing school and given instructions which she again refused," Lott said according to WISTV. "The video then shows the student resisting and being arrested by the [school resource officer]."
As Lott clarified to WLTX 19, the student – who has not been named – refused to obey the teacher's order to leave the class. The girl continued to ignore the school authorities even after an administrator was called to the room. Finally, the school resource officer came to the room and forcibly removed the student and she resisted arrest.
The girl was charged with disturbing school and was later released to the custody of her parents.
Parents of Spring Valley High School students have called the video "egregious" and "unacceptable," according to local media.
"Parents are heartbroken as this is just another example of the intolerance that continues to be of issue in Richland School District Two particularly with families and children of color," a statement by a group called the Richland Two Black Parents Association said. "As we have stated in the past, we stand ready to work in collaboration to address these horrible acts of violence and inequities among our children."
You can share this story on social media: