Wikimedia vs. NSA lawsuit dismissed in US over lack of surveillance proof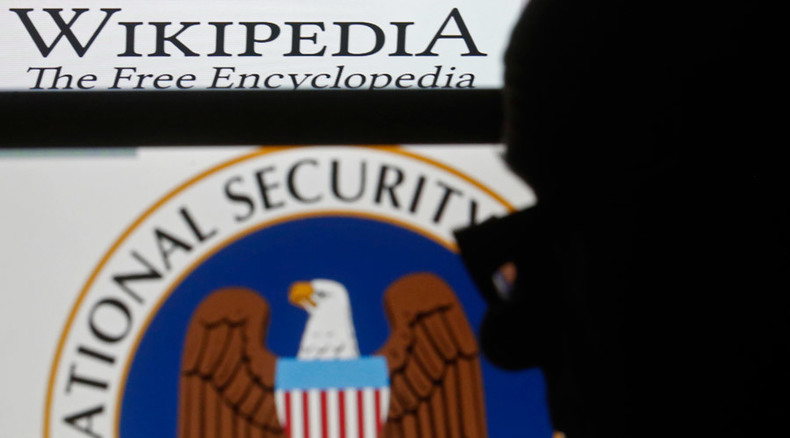 A lawsuit brought by Wikimedia against the NSA for spying did not see the light of day, as a US federal judge dismissed the case, stating there was no way to know whether the Wikimedia Foundation, which runs Wikipedia, was actually under surveillance.
US District Judge Richard D. Bennett ruled in favor of the National Security Agency (NSA), concluding that there was not enough evidence to "plausibly establish that the NSA is using upstream surveillance."
In the 30-page ruling, Bennett stressed that Wikimedia and the other plaintiffs could not prove that they were being watched.
"As already discussed, although plaintiffs have alleged facts that plausibly establish that the NSA uses Upstream surveillance at some number of chokepoints, they have not alleged facts that plausibly establish that the NSA is using Upstream surveillance to copy all or substantially all communications passing through those chokepoints. In this regard, plaintiffs can only speculate, which Clapper forecloses as a basis for standing," Bennett wrote.
The judge described Wikimedia's arguments as "unpersuasive,""incomplete," and "riddled with assumptions."
"For one thing, plaintiffs insist that Wikipedia's over one trillion annual internet communications is significant in volume. But plaintiffs provide no context for assessing the significance of this figure. One trillion is plainly a large number, but size is always relative. For example, one trillion dollars are of enormous value, whereas one trillion grains of sand are but a small patch of beach," Bennett said.
The decision echoed the 2013 Clapper v. Amnesty International ruling, which also said that plaintiff could not prove it was under surveillance.
Wikimedia said that it will probably appeal the decision, adding that its case had merit, and there was no doubt that they were being spied on.
"The decision turns a blind eye to the fact that the government is tapping into the internet's backbone to spy on millions of Americans," American Civil Liberties Union lawyer Patrick Toomey said in a statement. "The dismissal of the lawsuit's claims as 'speculative' is at odds with an overwhelming public record of warrantless surveillance."
The plaintiffs included the Wikimedia Foundation, Amnesty International USA, and Human Rights Watch, all of which are represented by the American Civil Liberties Union (ACLU).
The lawsuit was filed back in March in the federal court in Maryland – the location of the NSA's headquarters.
Wikipedia co-founder Jimmy Wales was sure he had a winning case on his hands, stating during the spring that he had evidence that such spying had caused the foundation harm.
"We have proof that it's actually impacting us from the Snowden documents. Wikipedia was specifically targeted for upstream surveillance," Wales told Reuters.
What made this lawsuit different from those that had come before it were the secret documents revealing the extent of the agency's spying programs that were made available by former NSA contractor and whistleblower Edward Snowden.
In its lawsuit, Wikimedia claimed that one of the NSA's mass surveillance programs, known as Upstream data collection, violates privacy rights and forces people worldwide to think twice before sharing sensitive information.
READ MORE: Wikipedia sues NSA, DoJ over mass surveillance
The organization said the NSA's practices violate the US Constitution, including the First Amendment protecting freedom of speech and association, and the Fourth Amendment, which protects against unreasonable search and seizure.
It said Upstream has tapped into high-capacity cables, switches, and routers that are used to move internet traffic across the US.
LISTEN MORE:
You can share this story on social media: