Voting advocates turn Philadelphia election into lottery to increase turnout, offer $10,000 prize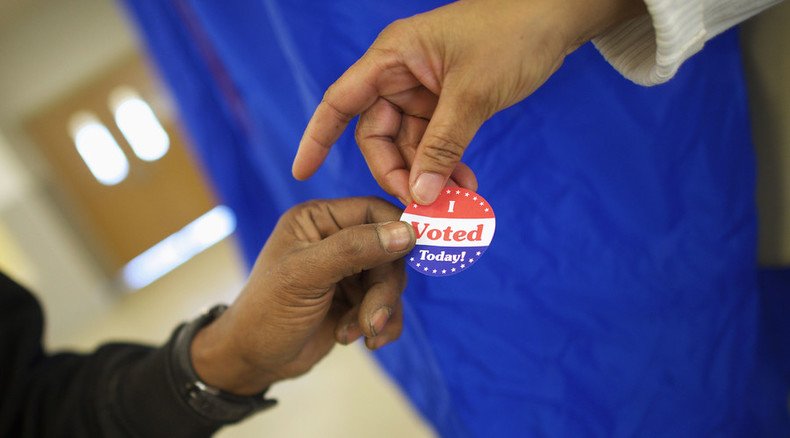 Former rivals in a Philadelphia mayoral race have joined forces to fight low voter turnout. Their plan: turn ballots into lottery tickets by awarding $10,000 to a random voter.
Former Democratic Mayor John F. Street and three-time Republican mayoral candidate Sam Katz – who ran against Street twice – laid out a scheme with Philadelphia Citizen editor Ray Platt to combat what they see as an epidemic of civic apathy. When voters head to the polls on November 3 to choose the next mayor of Philadelphia, they will also have the chance to win a cash prize of $10,000.
"Philadelphia suffers from chronic civic participation malaise. We could, as usual, stand back and wring our hands. Instead, we at The Citizen have decided it's time for action," the Philadelphia Citizen said in its announcement of the initiative on Thursday.
READ MORE: 'That has to change:' Bernie Sanders slams efforts to suppress voting rights
The online news site says that turnout for mayoral elections in the city have dropped from 77 percent in 1971 to about 20 percent in 2011.
"Voter turnout in Philadelphia has become catastrophic," Katz said at an event announcing the lottery. "Desperate times require desperate measures."
The money for the "It Pays to Vote" initiative is coming from a foundation started by Ajay Raju and his wife, Pamela. Raju is chairman and chief executive of the Dilworth Paxson law firm and, with Platt, is co-founder of the Philadelphia Citizen.
Neither The Citizen nor the Pamela and Ajay Raju Foundation has any formal association with the government of Philadelphia or electoral authorities, but they insist that everything they are doing is legitimate.
"Before you ask: Yes, this is legal," the publication wrote, adding that they are not endorsing anyone or making money off the initiative.
"We're doing this for one reason alone: To bring more people to the polls, in any way that gets them there."
The method of choosing a winner is to simply pick a random polling station and award the first voter to exit it at a randomly-chosen time with the prize, assuming they are eligible to vote under local, state and federal law.
READ MORE: Lawmakers want to restore voting rights for felons
A similar program was implemented earlier this year on the west coast, when a voter education organization gave $25,000 to a random voter in a Los Angeles school board election. According to The Citizen, LA's program was a remarkable success: voter turnout increased from 46 percent to 80 percent among those who knew about the prize.
But many aren't so enthusiastic about the measure, seeing it as a crass way to fill the polls with uninformed voters.
Philadelphia offering $10,000 for voting…a new way to get uninformed people to cast uniformed votes…Cheaper to offer liquor like old days.

— Ken (@KenFro) October 23, 2015

Others compare it to buying votes from the demographic that is inclined to play scratchcards.
Other organizations are creating less controversial initiatives in parallel to the lottery in order to invigorate the city's voters. Crowdpac, a silicon-valley startup known for crunching political numbers, has teamed up with Philadelphia-based government watchdog Committee of Seventy to boost voter education and engagement.
"We have to create a contagion to voting," said the watchdog's President and CEO David Thornburg, according to CBS Philly, "anything we can try, makes a lot of sense."
You can share this story on social media: