Special Forces soldier dies in Iraq hostage rescue, 1st US casualty in fighting ISIS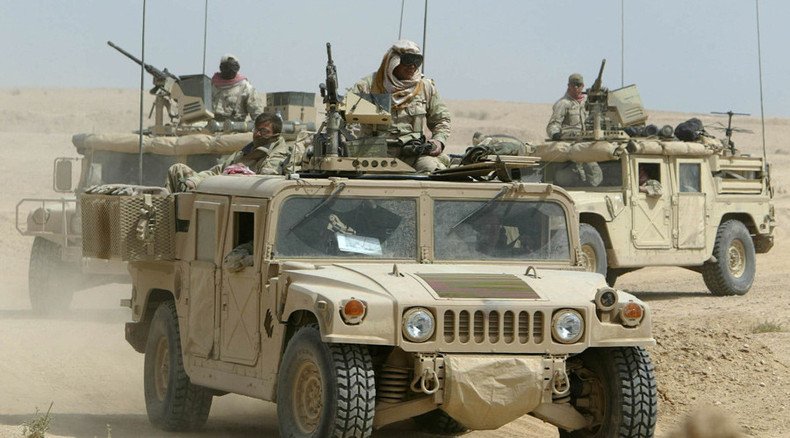 A member of a US special operations team was killed during a hostage rescue operation in northern Iraq. This is the first American killed in ground combat with Islamic State militants, officials said.
Iraqi troops and US Special Forces mounted a rescue operation Wednesday night in the area of Hawija, an Islamic State stronghold west of Kirkuk. About 70 captives held by Islamic State (previously ISIS/ISIL) were freed successfully, but one American was killed.
"It was an Iraqi operation," a US official told AFP, adding that the US military were in an "advise and assist" role. US Special Forces were dropped in by helicopter, while Kurdish fighters and Iraqi troops attacked by land, with the goal of freeing the Kurdish, Sunni and other fighters captured by Islamic State militants, Fox News reported.
"People were chained to walls," one well-placed military source told Fox News.
A number of ISIS militants were killed and five were captured in the raid, Pentagon spokesman Peter Cook said in a statement Thursday, adding that more than 20 of the freed captives were members of the Iraqi security forces. The operation was driven by information that the hostages "faced imminent mass execution," Cook said.
"In addition, the US recovered important intelligence" about IS, Cook said.
In a separate statement, Kurdish officials said the operation lasted about two hours and was led by the peshmerga with support from coalition troops. It made no mention of an imminent threat of executions, however.
More than 20 ISIS fighters were killed in the operation, and 69 hostages were freed, none of whom were Kurds, the statement added, thanking the Americans for their bravery.
A US defense official told AP that more than 10 IS militants were killed in the operation. He added that the US role in the operation involved providing intelligence, conducting airstrikes before and after the mission, transporting Iraqi soldiers aboard five US special operations helicopters and advising Iraqi and Kurdish fighters during the raid.
Other outlets reported conflicting accounts of the mission. Helicopter-borne rescuers targeted a makeshift prison in Hawija where Kurdish hostages were held, one source told Reuters, while another said that US Special Forces raided a house where senior ISIS commanders were gathered, and that gunfire and explosions could be heard for several hours.
Citing unidentified sources, NBC News reported that the rescued captives were Kurdish Peshmerga fighters, and that the operation was requested by the Iraqi government. NBC added that US forces have suffered casualties, but did not give details on the number of injured or killed.
READ MORE: US Special Forces kill senior ISIS commander in Syria raid – DoD
In addition to the air campaign launched in October 2014, US Special Forces have raided Islamic State objectives inside Iraq and Syria. One such operation in May resulted in the death of Abu Sayyaf, a senior IS leader.
You can share this story on social media: