Strangulation and biting: Indiana student could face federal charges for attack on Muslim woman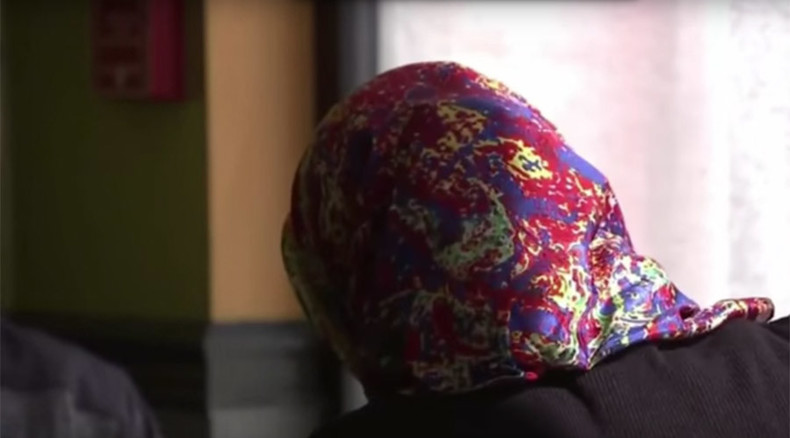 The FBI is looking into whether to file federal charges against a 19-year old university student who was arrested at the weekend for shouting racial slurs and carrying out a physical attack on a Muslim woman in a café in Bloomington, Indiana.
Regardless of whether the FBI charges Triceten Bickford with a hate crime, he already faces multiples state charges for the incident which occurred on Saturday night. Those include felony charges of strangulation, battery on a police officer, and intimidation and misdemeanor charges of battery and battery by bodily waste in connection with the attack, according to the Associated Press.
The woman at the center of the attack, who remains unnamed, said Bickford approached her yelling "white power, white power," as well as anti-black slurs and "kill the police." Things escalated when he yanked her scarf, said the police affidavit, according to the Fort Wayne News Sentinel.
"I found him at my neck, like pushing me down, squeezing my neck, and putting my head to the table," the victim told local WHTR.
The move forced her head forward and restricted her breathing as he tried to remove her headscarf, according to police.
The woman, who is a Turkish Muslim, told WHTR that she's lived in the US for 18 years and never experienced any type of discrimination, let alone an all-out attack. At the time of the incident, she was with her nine-year-old daughter, who witnessed the attack.
"That never happened in my life. He pulled my scarf off and if I didn't grab his hands he could have killed," she said.
The woman's husband and a bystander dragged Bickford off and restrained him until police arrived. Bickford spat in the men's faces, threatened to kill them and the arriving officers, tried to kick out the windows of a patrol car, and bit an officer on the calf at the Monroe County Jail, the affidavit states.
Bickford was arrested and released on a $750 bond. He told WHTR he has no memory of what happened outside the café and can't imagine why he did what he has been accused of doing. He said he hadn't taken his daily dose of anti-anxiety medicine and had been drinking heavily. The police report indicated his blood alcohol level was double the legal limit of 0.08.
"That's not who I am. I'm not a hateful person," explained the suspect to WHTR, in reference to the attack. "I love people. I don't know where that came from."
"They're making me out to be a monster. I'm just a normal person."
Bickford was a sophomore majoring in psychology at Indiana University before the school expelled him on Monday evening as a "direct result of what happened over the weekend."
Bickford is due back in court on Friday to face six charges. If the FBI determines it was a hate crime, he could face additional charges.
"We urge prosecutors to bring a 'bias crime' charge in this case as outlined under Indiana's Criminal Code," said Council on American-Islamic Relations spokesman Ibrahim Hooper. "We are concerned that the low bail in this case is an indication that it is not being taken as seriously as it should give the allegations of violence and the alleged bias motive."