'It is arson:' 6 churches set on fire near Ferguson in 10 days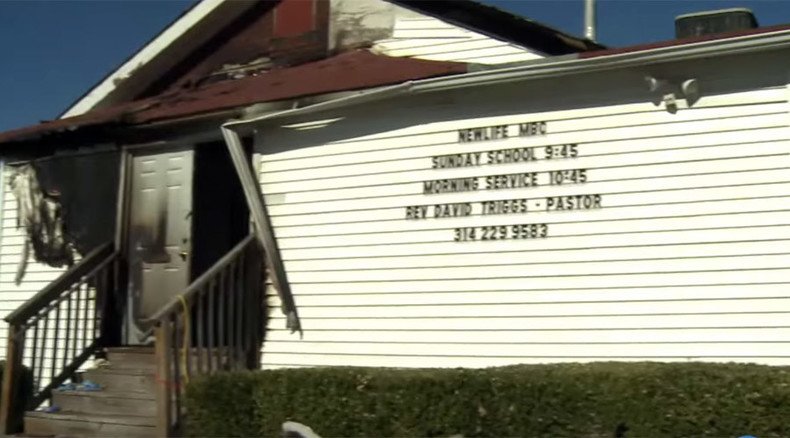 St Louis police have confirmed that six fires at churches in predominately black neighborhoods near Ferguson occurring over just 10 days have been classified as arson. There have been no injuries and officials don't yet have a suspect.
"It is arson," St. Louis Fire Captain Garon Mosby told media outlets, according to the Associated Press. "These [fires] are being intentionally set."
Mosby said the possibility of a hate crime for religious or racial reasons "is part of the dynamic" in an ongoing joint investigation currently being conducted by the St. Louis Regional Bomb Unit and the Bureau of Alcohol, Tobacco and Firearms. The ATF has jurisdiction over fires at all houses of worship.
All the fires took place in predominately black neighborhoods within a three-mile radius of Ferguson, and all were lit at the front doors of the churches.
The first hit the Bethel Non-Denominational Church in Jennings on October 8. Two days later, the New Northside Missionary Baptist, also in Jennings, suffered from fire.
In addition, fires were set at Minerva-St. Augustine Catholic Church on October 14 and New Testament Church of Christ on October 15, and over the weekend there were blazes at the New Life Missionary Baptist Church and Ebenezer Lutheran Church.
"We just can't understand why someone would go around setting churches on fire," Alderman Frank Williamson, who attends St. Augustine Catholic Church, told KMOX. "It has us very puzzled."
Authorities have not released any information about possible motives in the cases and have not found any indication that the churches had received threats, according to KMOX.
Church leaders told the AP that they are focused on healing, rather than speculating on who to blame.
"This is a spiritually sick person," the Reverend David Triggs, whose New Life Missionary Baptist Church was set on fire on Saturday, told the AP. "This is a sin issue. It's not a race issue."
Damage to New Life Missionary Baptist Church was confined to an exterior wall, the roof, and the doorway where the blaze appeared to have been set. With smoke damage in the interior of the church, the congregation held Sunday's regular service on folding chairs on the lawn outside the charred house of worship.
"This is alarming because domestic terrorism is alive and well," David Love, journalist and commentator, told the Southern Poverty Law Center's Hatewatch. "It is such a problem that the US Department of Justice recently predicted increases in violent acts by white extremists who are responding to a new reality in which people of color will become a majority in America."
"It is interesting, and more than coincidence, that St. Louis has also witnessed a great deal of racial tension and violence in light of the events in Ferguson. In an environment which fosters government sponsored racism – police violence against black residents, racial profiling and economic exploitation through a system of court fees amounting to a black debtors' prisons – it does not take such a stretch of the imagination to consider that some private citizens may feel emboldened to take matters in their own hands."
The fires in St. Louis come four months after a string of six church fires occurred in the days following the deadly June 17 rampage by a white supremacist, who fatally shot nine people at Emanuel AME Church in Charleston, South Carolina. Four were in southern states, and some were accidentally started or caused by lightning, but authorities said that three had been the work of arsonists, according to SPLC.
A spike of arsons against black churches in the South during the mid-1990s led to the creation of the National Church Arson Task Force in 1996, which investigated at least 827 arsons, bombings, or attempted bombings at religious buildings that occurred between 1995 and 1999. Of that 827, at least 269 involved black churches, and 185 were located in the south, according to a task force report in 2000.
You can share this story on social media: