Gun makers compete to produce US Army's new official handgun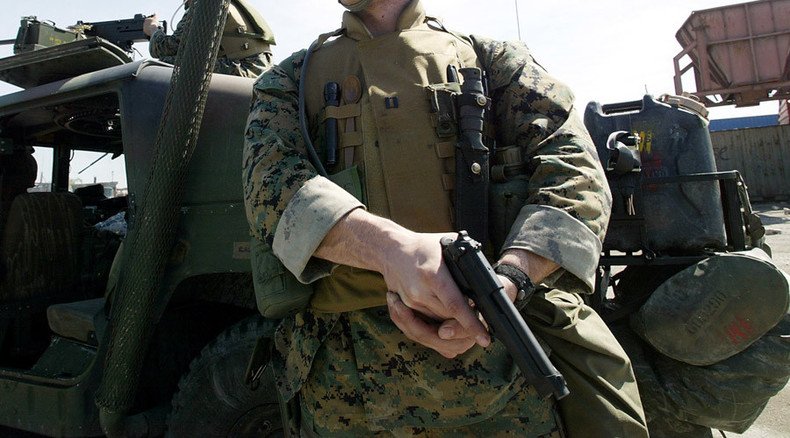 After 30 years in use, the US Army's official handgun is being retired. Lying in wait, gun manufacturers are designing replacements to compete for a $580 million contract and all the secondary benefits that come with it.
Scheduled to be in use by 2019, the new sidearms will not be an upgrade, but a total replacement of the current Beretta M9 pistol issued to soldiers. The main gripe among military users of the M9, which was first issued in 1985, is that it's too thick for small hands and fingers. Additionally, combat soldiers haven't been satisfied with its ammunition and the Army desires more compatibility with modern accessories.
"It's a little one size-fits-most" Rodney Briggs, a firearms instructor and former member of the Iowa Army National Guard's military police, told the Associated Press. "It's been around for a really, really long time, and it's just old and outdated."
"I have to overlap my hands" Pfc. Elizabeth Reabuck, a member of the Army's 139th Military Police Company, said in describing the M9's grip to AP. "If I had to shoot one-handed with this thing, it wouldn't go very well."
To compete for the $580 million contract, the Army requires gun manufacturers to submit models with an adjustable grip, a rail for attaching lights, a sight made for darkened conditions and a noise suppressor. The sum of the contract is as much as one and a half times larger than some gun manufacturers' total annual handgun sales, according to the Motley Fool financial services company.
Not only will the gun itself be a factor in the bidding process, but ammunition as well. About 25 percent of Army soldiers with experience in Iraq and Afghanistan have highlighted the lack of stopping power of the current 9mm bullets. As standard, those bullets are round and jacketed in metal, preventing more severe injury. Hollow point bullets, which expand or break apart on contact, are prohibited by international law under the 1899 Hague Convention, though the US has never officially adopted these rules.
Army lawyers will make the case that hollow point bullets are more humane, in part, because their breaking apart or flattening on impact prevents the shots from traveling through bodies, vehicles, or walls, thus lessening the possibility of hitting unintended targets.
While the Army can't name who's interested in bidding, Smith & Wesson is named in some reports, as is Beretta, the Army's current official sidearm manufacturer, along with SIG Sauer.
Smith & Wesson is partnering with General Dynamics, a top military-industrial complex firm, which through its Ordnance and Tactical Systems will develop munitions for the new weapons. This combination is considered highly competitive by Fool.com.
Beretta, whose last major contract with the military was worth $220 million and touted by the company as the largest of its kind since World War II, is trying to retain its relationship with the Army. It previewed its M9A3 upgrade in January, but since the announcement of the need for an entirely new weapon, Beretta has been working on one called the APX.
SIG Sauer, which manufactures the Army's smaller M11 sidearm, is reported to be competing for the $580 million with a gun similar to its P320. Other manufacturers might be submitting their own models, but the only other reports out are on which companies aren't competing. Ruger and the Czech company CZ are reportedly not seeking the contract. Heckler & Koch has yet to comment.
Each company can submit two models, on the condition that each be .40- or .45-caliber ready. The submission deadline is January 28, 2016. The Army will then select three contenders to be field tested by soldiers. Official use would begin in 2019.
"You have to be very lethal, very accurate, yet you must be a combat pistol that is very durable and reliable in all situations," Gabriele de Plano, Beretta's vice president of military marketing and sales, told AP.
You can share this story on social media: