'I would have stopped 9/11' says Trump. He's 'pathetic' and 'an actor', retorts Jeb Bush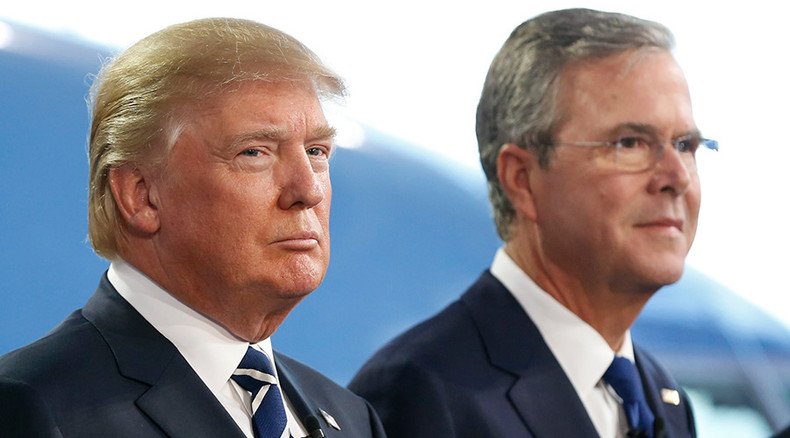 The spat between two leading GOP presidential nomination candidates has sunk to a new low, as Donald Trump and Jeb Bush spent the entire weekend throwing non-stop barbs at each other, with Bush forced to defend his family honor over 9/11.
The feud heated up on Friday, when the property mogul appeared to imply that George W. Bush was at least partly at fault for the 2001 attacks that brought down the World Trade Center, as they happened on his watch.
Pressed about whether that meant that Bush was at fault, Trump replied: "He was president, okay? Blame him or don't blame him, but he was president. The World Trade Center came down during his reign."
Jeb Bush replies on Twitter that the insinuation about his older sibling was "pathetic" and that "We were attacked & my brother kept us safe."
In a response no more than one notch above the playground, Trump tweeted, "No Jeb Bush, you're pathetic for saying nothing happened during your brother's term when the World Trade Center was attacked and came down."
No @JebBush, you're pathetic for saying nothing happened during your brother's term when the World Trade Center was attacked and came down.

— Donald J. Trump (@realDonaldTrump) October 17, 2015
Trump, who retains leadership in the Republican polls, while Bush, the long-term favorite languishes in fourth place, continued to contrast himself and the former US president on Fox News Sunday.
"I am extremely, extremely tough on illegal immigration. I'm extremely tough on people coming into this country. I believe that if I were running things, I doubt those people would have been in the country," said Trump.
READ MORE: Virginia isn't for Trump lovers: Brawl breaks out at billionaire's campaign event (VIDEO)
The prospective candidate also said that he would have ensured closer cooperation between rival government security agencies, and would have listened to those intelligence officials who had warned Bush of an imminent attack.
"I don't want Jeb Bush saying, 'My brother kept us safe,'" summed up Trump, whose fortune is estimated at $4.5 billion by Forbes, and over $10 billion by him.
Bush decided to change tack in his struggle against Trump, attacking his credibility, as opposed to trying to stay with him blow-for-blow.
Above the caption "Our national security isn't a reality TV show," Bush's team released an attack video claiming that Trump isn't fit to command the Pentagon's nuclear arsenal, and running through a catalogue of his gaffes, including his weak grasp of foreign policy, and occasional inarticulacy.
62 year-old Bush further forced the point in an interview with CNN.
"He's not taking the responsibility - the possibility of being president of the United States - really seriously. For him, it looks as though it's - he's an actor playing a role of the candidate for president," said Bush.
Bush was also forced to return to the sore point of Iraq.
"I don't know why he keeps bringing this up," told State of the Union host Jake Tapper. "Across the spectrum of foreign policy, Mr. Trump talks about things as though he's still on 'The Apprentice.' I mean, literally, talking about Syria, saying ISIS should take out Assad, then Russia should take out ISIS, as though it was some kind of board game, and not a serious approach."
READ MORE: Donald Trump supports Putin 'bombing the hell out of ISIS'
That was the cue for Trump to respond in real time, unleashing yet another cutting tweet upon his 4.6 million followers.
"Jeb, why did your brother attack and destabilize [sic] the Middle East by attacking Iraq when there were no weapons of mass destruction? Bad info?" he said in one message, echoing the criticisms of the 2003 incursion which have most often been heard from the other side of the political spectrum.
"Jeb Bush should stop trying to defend his brother and focus on his own shortcomings and how to fix them," said Trump in another message.
With Bush's Twitter feed silent for now, it is plausible that the exchanges will continue right up to the Republican primaries and caucuses, which will begin in February next year.
LISTEN MORE:
You can share this story on social media: