DARPA seeks to develop drones that self-destruct in sunlight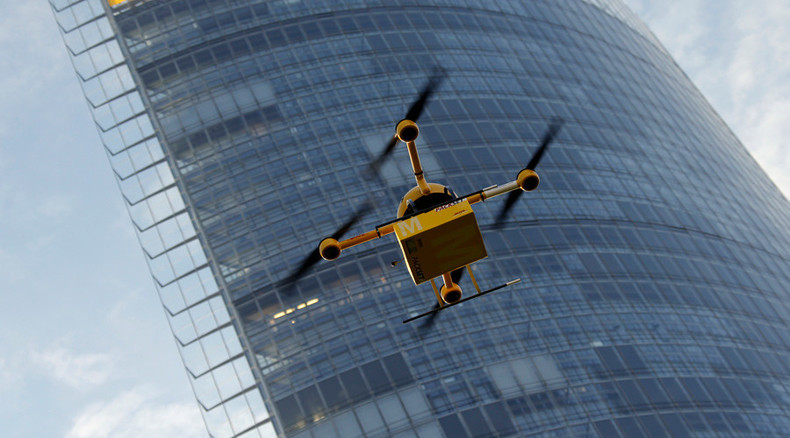 DARPA, the Pentagon's cutting-edge research agency, is launching a project to develop drones capable of vaporizing into thin air after delivering their payload to remote regions.
The program is called Inbound Controlled Air-Releasable Unrecoverable Systems, or snappily titled as ICARUS for short. The acronym is a reference to the Greek mythological figure of the same name, a boy who used his craftsman father's wax-and-feather wings to escape Crete, flew too close to the sun, and fell to his death when the wings melted.

"DARPA's new ICARUS program aims to mimic the material transience that led to Icarus' demise, but leverages that capacity in scenarios with more uplifting endings," the agency said in a press release.
READ MORE: Amazon test-drives delivery drones in Canada, bypassing tight US regulation
So the ICARUS drone will evaporate into the air from the sun's light just like its namesake. But what kind of 'uplifting ending' is the agency envisioning?

The single-use drones can deliver food and medical supplies to difficult-to-reach disaster areas and have the vehicles disappear without trace, or bring equipment to troops without having to worry about recovery.
This disintegration feature would likely make drones cheaper and lighter than the ones in use today, and they wouldn't be able to be reverse-engineered if they should fall into the wrong hands.


"Vanishing delivery vehicles could extend military and civilian operational capabilities in extenuating circumstances where currently there is no means to provide additional support," said ICARUS program manager Troy Olsson.
The agency is offering $8 million in funding for proposals to build drones that could fly into a battlefield or emergency situation and drop off supplies or medical goods up to 3lbs (just over 1kg), without needing to come home afterward.
The drone must be no more than three meters wide and fully vanish within four hours of delivery. Other requirements include being capable of carrying a 3 pound payload within 10 meters of a target and cover distances of 150km. Proposals for ICARUS are due to the agency by November 23.
This vision might seem like a flight of fancy if not for one detail: the technology involved with disappearing materials has already been proven. DARPA's Vanishing Programmable Resources (VAPR) program has already developed self-destructing electronic components. One of the materials developed, called polymer panels, dissipate by changing directly from solid to a gas. Now the agency is building on that success and wants to put those innovations to use in the skies.
"With the progress made in VAPR, it became plausible to imagine building larger, more robust structures using these materials for an even wider array of applications," Olsson said. "And that led to the question, 'What sorts of things would be even more useful if they disappeared right after we used them?'"