Fox News' terrorism expert arrested for lying about non-existent CIA career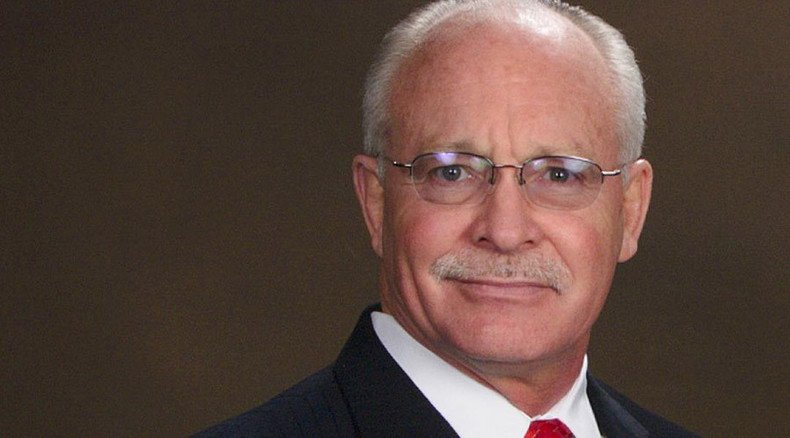 A frequent Fox News guest cited as a terrorism expert due to an extensive career with the CIA has been arrested and charged with fraud relating to that very career. He is accused of lying on official government documents.
Wayne Simmons has appeared on Fox News dozens of times since 2004, usually with a shortened title of "former CIA operative,""analyst" or "officer." On his personal website, he says he was recruited by the US spy agency after he joined the Navy in 1973 "to became part of an Outside Paramilitary Special Operations Group."
In this role, he says he "spearheaded Deep Cover Intel Ops against some of the world's most dangerous Drug Cartels and arms smugglers from Central and South America and the Middle East."
On one of Simmons' appearances on Fox News, in November 2007, he discussed the case of former FBI agent and CIA spy Nada Nadim Prouty, who was found guilty of committing fraud and selling state secrets.
"Somewhere along the line," he told Fox's Douglas Kennedy, "someone, whoever was responsible for the background check at the FBI really, really fell down."
"This has exposed the raw nerve, if you will, of a flaw in the background check, and without a background check, without knowing who we're hiring, and who we are employing to protect our nation, we are in big, big trouble," Simmons added.
Now Simmons himself is accused of committing fraud.
On Thursday, a federal grand jury charged Simmons with lying on his Standard Form 86, the 127-page-long form for federal security clearances, which contains highly personal information about the individual, including possible drug and alcohol abuses, and financial and criminal histories. The Office of Personnel Management database containing millions of SF-86 files was stolen when the agency was hacked at the end of last year. Simmons was applying to work with the US State Department, and wrote that he had been employed as an "Outside Paramilitary Special Operations Officer" for the CIA from 1973 to 2000.
The indictment also accused Simmons of executing a scheme "with the intent to defraud the United States and to obtain money" under fraudulent pretenses by claiming to have worked for the CIA for 27 years. Court documents cite the hiring of Simmons as the "Human Terrain System Team Leader" by an unnamed government contracting company as an example of him using his stated CIA experience to land a job. The value of the contract between the federal government and the company was listed as $44 million.
In that contracting role, Simmons was subsequently trained at a US Army facility in preparation for an overseas deployment alongside US military personnel; however, he never finished training or ended up deploying.
He faces similar charges as a subcontractor for another company, having cited not only his CIA employment, but also the position with the first government contractor as well. That contract was worth about $72 million, and Simmons was hired as a senior intelligence adviser. In this role, he was deployed overseas as an adviser to senior US military personnel.
On top of lying about his career with the CIA on the SF-86, he is also accused of "falsely stating ... that he had not previously been charged with or convicted of a felony offense, that his prior arrests and criminal convictions were directly related to his supposed intelligence work for the CIA, and that he held a top secret security clearance from 1973 to 2000," the indictment read.
Simmons is also charged with two counts of wire fraud regarding an unrelated real estate scheme in which he also represented himself as a former CIA agent to "bolster his credibility" with the victim, identified only by the initials EL. Simmons offered EL an opportunity to make a $125,000 investment in a real estate investment that would last at least six months.
However, "There was in fact no real estate investment, and the defendant used the invested funds for personal purposes," according to court documents. Simmons prolonged the fraud by providing the promised monthly payments of 3 percent and "Sent EL text messages intended to lull EL with false explanations as to the status of her invested funds."
Simmons was arrested Thursday afternoon and charged with one count of false statements, two counts of major fraud against the US and three counts of wire fraud. If he is convicted, he faces up to 35 years in jail, the US Attorney's Office for the Eastern District of Virginia said in a statement.
The CIA would not comment on Simmons' arrest, beyond saying that the agency is "working closely with the Justice Department on this matter," CIA spokesman Dean Boyd said in a statement
Fox News would not comment either, other than noting that Simmons "was never a contributor, only a guest ‒ and he was never paid by the network," channel spokeswoman Irena Briganti told CNN.
Simmons describes himself on his site as a "terrorism analyst" for Fox and a consultant to various government entities.
You can share this story on social media: