'I am not resisting': Brutal police arrest of innocent black student sparks protests in DC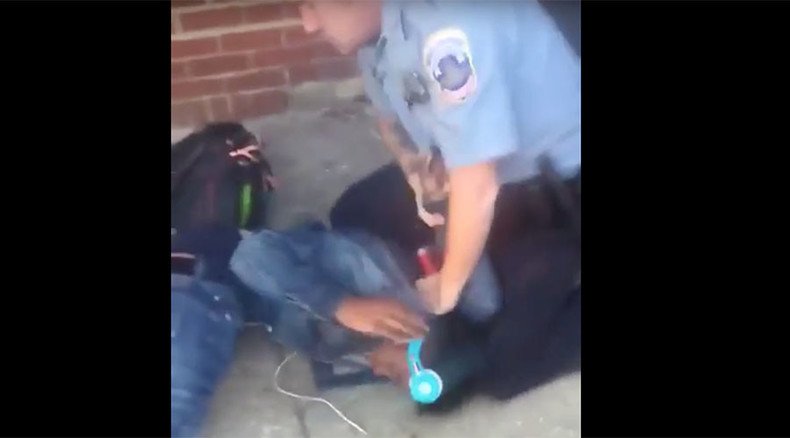 A video has emerged of an 18-year-old freshman music student being overpowered by Washington DC police, who were called after some customers in a bank said that he had appeared "suspicious," despite authorities admitting that he did not commit any crime.
The smartphone footage, shot on Monday evening, shows two officers mounting the slightly-built Jason Goolsby, shouting "Stop resisting!" as they handcuff him. Goolsby, in obvious pain, cries "I am not resisting!" while a friend behind the camera repeatedly insists "He didn't do nothing!"
Shared on social media on Tuesday, the video caused an outcry, and a 'Justice for Jason' campaign was started within hours.
Several dozens of activists from Black Lives Matter, a campaigning group set up following several documented instances of harsh police treatment of black suspects in the last year, blocked Pennsylvania Avenue, where the arrest took place, shouting slogans, and the number on the badge of one of the officers in the clip.
Students at the prestigious Howard University, where Goolsby is studying a degree, part-funded by a scholarship, also staged a campus demonstration. Meanwhile, Erika Totten, a teacher at the school where he graduated last year and a black rights activist, tweeted that Goolsby is "literally one of the sweetest boys I've ever had the honor of teaching."
In their defense, Washington's Metropolitan Police Department (MPD) issued several statements saying that the video was taken out of context, and showed officers subduing the teenager after he himself decided to flee, rather than speak to officers, summoned by a 911 call.
"The initial call was for a suspicious person, three subjects may be trying to rob people at the ATM. Officers in the area responded to the assignment," said an email from Officer Sean Hickman, an MPD spokesman, sent to the media.
"One individual fled on foot from the police, was chased, and then taken down. The individual resisted, and was handcuffed while resisting after he refused to stop. The person making the video was interfering with police, and was also detained while the incident was investigated. Neither individual was arrested," it claimed.
In an interview with the Washington Post, Goolsby said that he was not loitering suspiciously, but merely deciding whether to take money out of his account, when he opened the door into a bank branch for a white woman pushing a pram, who was with her husband, out of politeness.
One of his friends, who originally shot the video, explained in a tweet that it was this "white couple," who felt "uncomfortable," who had called the police. Police have refused to release the 911 call, but said the complainant described three men with backpacks and "flat-top bush hairstyles," who appeared as if they were sizing up potential targets - inciting accusations of racial profiling, even before the forcible detention.
Police cars arrived almost immediately. Explaining why he decided to flee, Goolsby, who is an aspiring rapper using the moniker Jay Cousteau, said that one of the cars nearly ran him over, and he panicked. He also complained that officers never read him his Miranda rights, nor apologized.
MPD says it will now "review the circumstances surrounding the stop to ensure that policies and procedures were followed."
You can share this story on social media: