'Mental' time capsule found at 1950s US hospital, looks back to shock therapy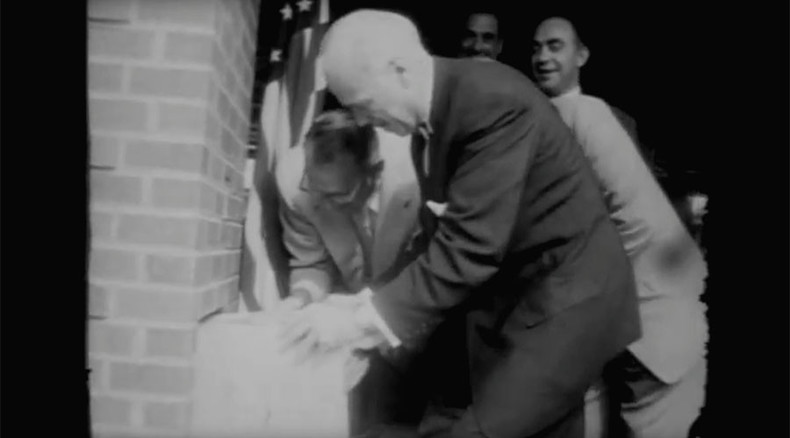 A rare time capsule has been unearthed on the grounds of an old hospital in Indianapolis nearly six decades after it was buried. The artifact contains a six-minute black-and-white movie with a message about electroshock therapy and the "problems of the future."
The capsule also contained news coverage and speeches given when the capsule was place into the ground on July 23, 1958.
Although much of the audio from the film has been lost, one unnamed man in his fifties wearing a beige suite can be heard talking to the camera near the end of the film: "When the psychiatrists of the future open this time capsule, only they will be able to tell how well we've solved our treatment problems."


Another man sitting next to him is also audible and is apparently talking of a new hospital building.

"…Electric shock treatment, as it is today. And it also will serve as a rest area in the day clinic period. Now, because of the space, the way it's laid out, this will be able to function under any circumstances that you might develop for treatment or program. For instance, we may someday, and only the people who open this time capsule will be able to say... we may go back to insulin shock or the development of some other drug techniques and so forth," he said.

Insulin shock therapy was introduced in 1927 and used in the 1940s and 1950s mainly for schizophrenia. Patients were injected with large doses of insulin to produce daily comas over several weeks. A number of psychiatrists (including the Austrian-American author of the technique, Manfred Sakel) claimed success rates for insulin coma therapy of over 80 percent in the treatment of schizophrenia. Others argued it only boosted remission in those patients who would undergo remission in any case.

Electric shock treatment has earned itself a dubious reputation, even more so after Ken Kesey's One Flew Over the Cuckoo's Nest, where Jack Nicholson played Randle Patrick "Mac" McMurphy who is given unwanted and unnecessary electroshock treatments in a mental institution.
READ MORE: US faces severe shortage of psychiatrists as demand grows – report
Electroconvulsive therapy (ECT, formerly known as electroshock therapy) is a procedure in which electric currents are passed through the brain, triggering a brief seizure, and causing changes in brain chemistry to reverse symptoms of certain mental illnesses. The procedure is still in use.

The Indiana Bahr hospital was closed in 1992. According to WFYI in Indianapolis, the site is currently being converted into business and residential properties. Some historical structures have been preserved and will remain.

"It's our hope to use this building for the admission of all patients, where the patients will be admitted, receive all of their examinations, and the treatment program outlined for each patient. We hope that we'll be able to treat and improve many patients, so they'll be able to go home from this building," a man in the time capsule video says.