Benghazi Committee drinks wine, buys guns, doesn't hold hearings ‒ former investigator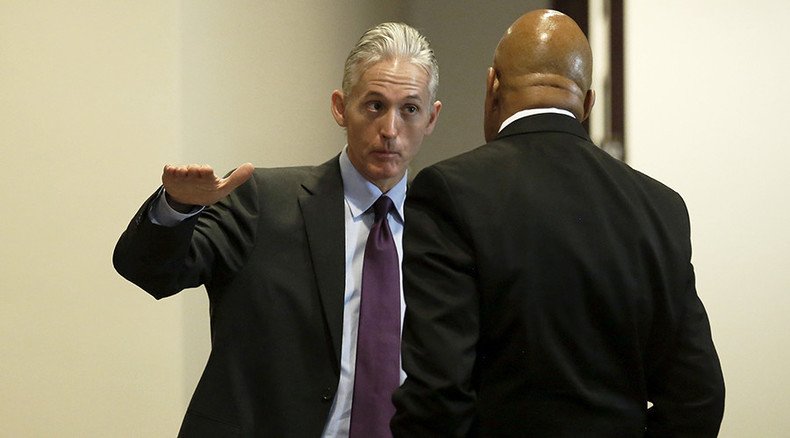 The House Select Committee on Benghazi, a 17-month investigation into the 2012 consulate attack in Libya, has long been accused of being a partisan witch hunt. Now a former staffer is complaining about its extracurricular activities.
Over the course of the ongoing Benghazi Committee investigation ‒ so far, a month longer than that of Watergate and counting ‒ there were bound to be some ebbs and flows to the committee's workload. However, it is how they took advantage of that downtime that is raising questions over the point of keeping the committee in business.
Wine Wednesdays
The committee has not held a public hearing since January 27, but that hasn't kept its members from meeting up on a weekly basis. They've formed a wine club, nicknamed "Wine Wednesdays," in which they drink from glasses imprinted with the words "Glacial Pace," Major Bradley F. Podliska, a committee investigator who was fired in June, told the New York Times. The customized goblets are a dig at Ranking Member Elijah Cummings (D-Maryland), who used the term in May to complain about the committee's lack of urgency in completing its task.
"At every turn, the Select Committee comes up with a new excuse to further delay its work and then blames its glacial pace on someone else," Cummings said in a statement at the time.
Benghazi gun-buying club
Wine Wednesdays are not the only social aspect of the Benghazi Committee. Its members have also set up a gun-buying club. They used the committee's conference room to discuss the 9mm Glock handguns they wanted to purchase, Podliska said. A favorite agenda item for the club was the type of monograms that they wanted inscribed on the firearms.
Unsearchable database
The committee's "glacial pace" can't just be blamed on fun and games, though. Its staff members are struggling to actually do their jobs. The committee has assembled more than 50,000 pages of documents, but the staff has no way to collate them into usable information. There's supposed to be an electronic system to manage the papers, but it's still not complete. Finding critical documents can be an almost comical task, staff members told the NY Times, requiring them to dig through boxes to find what they're looking for.
However laughable these criticisms of the committee may be, its members ‒ especially Chairman Trey Gowdy (R-South Carolina) ‒ have brushed them off as sour grapes by an employee who was fired for cause.
Sour grapes
Podliska was fired after he received "repeated counseling for performance and lack of judgment," the committee said in a statement, adding that he "has continued to imagine a variety of new, outlandish, never previously mentioned, allegations since his departure." The Air Force Reserve intelligence officer, who served as a committee investigator for 10 months, was let go in June for three infractions: mishandling classified material, using work email to send a social invitation to colleagues and assigning an "unauthorized project" to an intern, he told CNN.
The 41-year-old, a lifelong Republican with a PhD in political science, claims, however, that he was fired because he refused to narrow his investigative efforts solely on Hillary Clinton, who was the secretary of state during the 2012 attacks on the US consulate in Benghazi, and on the State Department, and because he had to take leave to perform over a month of active duty service in the Air Force in Germany. Podliska plans to sue the committee for wrongful termination and violating the Uniformed Services Employment and Reemployment Rights Act of 1994, he told the NY Times.
Political witch hunt
There are some criticisms of the committee, though, that can't be shrugged off as merely Podliska's bitterness. Democrats ‒ and even some Republicans ‒ have called on the House leadership to dissolve the investigation, saying it has devolved into a political witch hunt aimed at Clinton ‒ timed to coincide with her run for president ‒ and an obsession with her private email server.
Last Wednesday, Representative Alan Grayson (D-Florida) filed an ethics complaint against Gowdy and House Majority Leader Kevin McCarthy (R-California) over the Benghazi Committee, accusing them of using "taxpayer funds for a political witch hunt."In his letter to the Office of Congressional Ethics, Grayson cited recent remarks by McCarthy as proof.
"Everybody thought Hillary Clinton was unbeatable, right?" McCarthy told Fox News at the end of September. "But we put together a Benghazi special committee, a select committee. What are her numbers today? Her numbers are dropping. Why? Because she's untrustable. But no one would have known any of that had happened had we not fought."
In mid-September, the Daily Kos complained that, under Gowdy's guidance, the Benghazi Committee "has long since turned into a Hillary Clinton digging expedition, seeking anything ‒ however unrelated to Benghazi ‒ that might hurt Clinton's presidential chances." The site then called on the committee chair to release his emails, noting that a pro-Clinton poll found that 56 percent of voters "see it as a basic fairness issue."
Even before that, though, people questioned by the committee ‒ namely Clinton confidante Sidney Blumenthal ‒ pointed out that they were asked to testify not on Benghazi, but on domestic political issues, the Huffington Post reported in June. Blumenthal was not asked a single question about the consulate in Libya until three hours into his testimony.
You can share this story on social media: