In Detroit, Columbus monument gets axed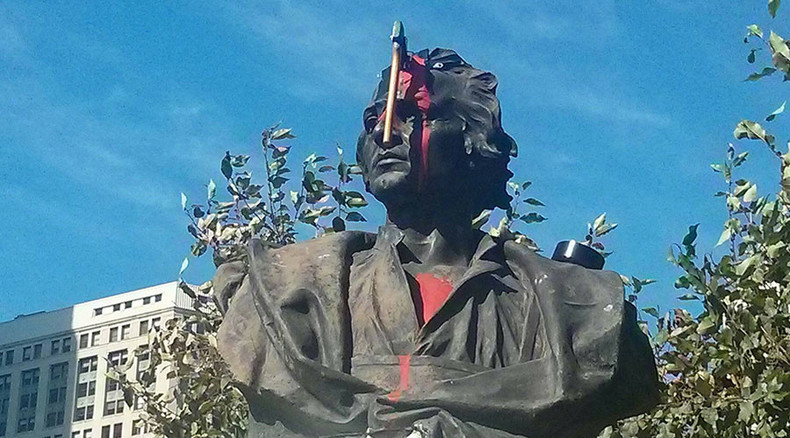 The statue of Christopher Columbus in downtown Detroit was splattered with red paint and had an ax taped to its forehead, in an apparent protest of the Columbus Day holiday, marking the anniversary of the European explorer's landing in the Americas.
Detroit police are investigating the incident, which they say most likely took place in the night between Sunday and Monday. Because Columbus Day is a holiday, no city workers were available to take down the ax or clean up the statue.
The 'installation' stayed up for most of Monday, until a group of urban explorers took the ax down at around 4 pm local time. Members of the Delta Bravo Urban Exploration Group posted a photograph of the ax, wrapped in the US flag, on their Facebook page.
City workers are expected to clean up the fake blood and remove the tape by Tuesday afternoon, local media report.
Located at the corner of Jefferson Avenue and Randolph Street, near the Detroit City Hall, the bust of Columbus was created by Italian artist Augusto Rivalta and presented to the city on October 12, 1910.
Declared a US federal holiday in 1937, Columbus Day marks the anniversary of the Spanish expedition landing in the Caribbean on October 12, 1492. Under a 1970 federal law governing holidays, it has been fixed to the second Monday in October. In many Latin American countries it is known as 'Dia de La Raza' ('Day of the Race').
Large numbers of indigenous inhabitants of the Americas perished from disease following the contact with European explorers. While there is much debate on the size of the pre-contact population, current mainstream scholarship estimates a 50 million native population in 1491, of which 5 million lived north of present-day Mexico. By the end of the 19th century, only 1.8 million natives remained.
While Columbus was popular among the founders of the US – the country's capital is located in the District of Columbia, for example – critics have pushed back against honoring the Italian explorer in recent years, especially following the 500th anniversary of the landing in 1992.
Oregon does not recognize Columbus Day at all, however. In Hawaii, it is marked as Discoverers' Day but all the public institutions are open for business. South Dakota celebrates it as "Native American Day," an official state holiday. This year, Alaska officially renamed it the holiday "Indigenous People's Day." Many other jurisdictions around the US have done the same.
READ MORE: 9 cities abolish Columbus Day in favor of Indigenous Peoples' Day

This is not the first attack on a statue of Columbus. A monument in Buffalo, New York was vandalized on September 8, with the words "slave,""rape" and "genocide" spray-painted on the statue. In November 2011, a Syracuse, NY monument to Columbus was also defaced with red paint and graffiti. The monument had previously been defaced in 1992 and 1997, according to local media.
In July, the bust of Columbus in Boston was covered with a bucket of red paint and sprayed with the slogan "Black Lives Matter."
You can share this story on social media: