Tennessee district closes schools over lack of funding, blames Obamacare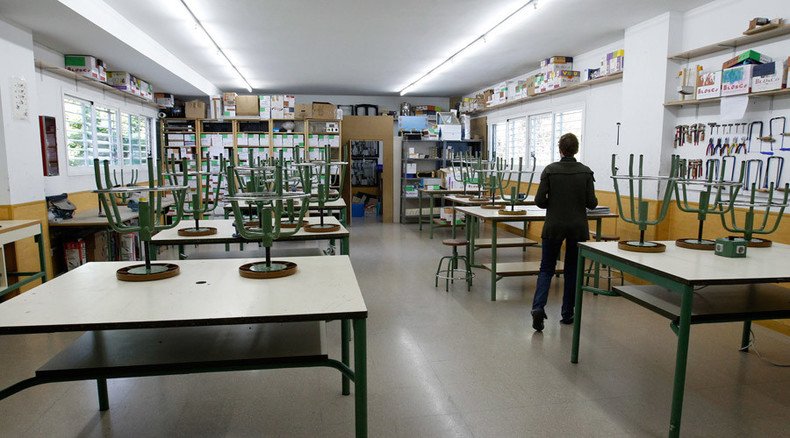 A school district in Tennessee voted to cancel classes and shut down its schools as a result of a budget problem that has left the government unable to fund the facilities. The school director blamed Obamacare for its problems.
Clay County, Tennessee operates three schools total – one high school and two that cover pre-kindergarten through eighth grade – on a $9.5 million budget. However, now more than 1,100 students are sitting at home while officials try to figure out how to reopen the doors. A school board meeting last week saw the board voting 6-4 to close the schools. A separate vote to keep them open failed.
Notably, the county's financial issues are not new. Clay County Director of Schools Jerry Strong told Associated Press that officials have been struggling with the budget for three years, and blamed county obligations such as state and government mandates, particularly the Affordable Care Act, for the monetary hole.
"Clay County's inability to generate the revenue to offset the mandates is what's caused this to come to a head," he said.
"The straw that broke the camel's back was really the Affordable Care Act for us and it has made it very difficult for us to have our employees properly covered and meet the mandates of the law. That was going to require new revenue and the commission felt like they couldn't do that through a tax increase."
In October 2014, the school board passed a plan to cover all school employees with health insurance coverage as required by the ACA, even for non-certified workers who were did not have to be covered previously, the Herald-Citizen reported. In addition to ACA requirements, the county had to fulfill other unspecified state mandates as well.
While school officials have sliced $700,000 off of their budget in the past five years, they've also had to increasespending by $800,000 to keep up with state and federal mandates. The count also shut down Maple Grove School "a few years ago," according to the Herald Citizen, but that move only slowed down the rate at which funds were shrinking.
At the same time, several proposals that would raise additional revenue through taxation have been defeated. The county board of education suggested a wheel tax of $45 for automobile registrations only to see that denied. Another proposal to raise property taxes by 30 cents was rejected as well. Now, the board is seeking a 20 cent increase.
Meanwhile, despite its initial rejection, the wheel tax will be coming up for a voter referendum in March. Some officials are favoring that proposal on the grounds that property taxes are high enough already.
"This is a poor, rural county and we already have the seventh-highest property tax rate in the whole state of Tennessee. Our property taxes, they're high enough," County Commissioner Parrish Wright told AP. He also argued that there's enough money for the schools to make it through the year and deal with the budget shortfall after the March referendum.
Regardless, the schools may not actually stay closed for long. According to NBC affiliate WSMV, they will need to be back in business by December 8 at the latest, since the state will either force them to raise property taxes or make them get by with what they have budgeted. In order for students to take the Tennessee Comprehensive Assessment Program tests, they must have at least 150 days of schooling.
You can share this story on social media: