California governor signs bill banning concealed firearms from schools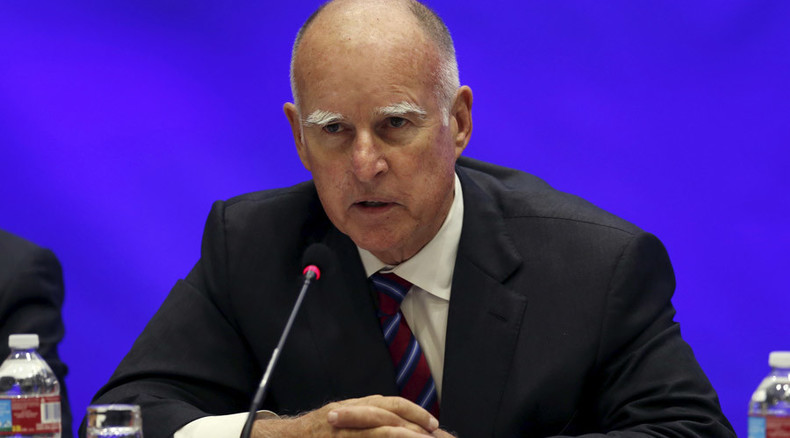 In the wake of the Oregon community college shooting, Governor Jerry Brown (D-California) has signed a bill banning concealed weapons from schools and universities in the Golden State.
Senate Bill 707, introduced by Democratic state Senator Lois Wolk, will prohibit people with concealed-weapon permits from their local police chief or sheriff from carrying their firearms on school or college campuses.
The bill was supported by Peggy McCrum, president of the California Chapters of the Brady Campaign to Prevent Gun Violence.
"California's college campuses and K-12 schools should be sanctuaries for learning, free from the fear of gun violence," McCrum told the Los Angeles Times. She added that the new law "will make schools safer and decrease students' risk of being injured or killed."
Concealed-carry permits are only granted to individuals who have passed strict fingerprint-based background checks and safety training courses. Firearms Policy Coalition, a gun rights advocacy organization, said that many vulnerable groups with specific self-defense needs will now be put at risk.
"Victims of domestic violence and stalking, judges, prosecutors, and public defenders who have a carry license will now have to leave their registered self-defense handguns at home when picking up their children at school, leaving them without the necessary protection from violent criminals," the group said in a statement.
READ MORE: Court denies California challenge to end concealed weapons restrictions
Retired police officers are an exception to the ban, a stipulation that some attribute to the powerful law enforcement lobby in the Golden State, which supported the measure. Many believe that this distinction is unconstitutional, and gun rights advocates have said that they will challenge it in court.
"The Ninth Circuit decided well over a decade ago that retired police officers are no different than retired plumbers for the purposes of gun laws," Firearms Policy Coalition President Brandon Combs stated. "The 2002 Ninth Circuit Court of Appeals decision striking down a California law that gave retired law enforcement officers special exemptions from the Assault Weapons Control Act was reinforced in a 2010 legal opinion issued by then-Attorney General Jerry Brown."