'Heaven forbid the penis': Texas students to brandish sex toys in protest of guns on campus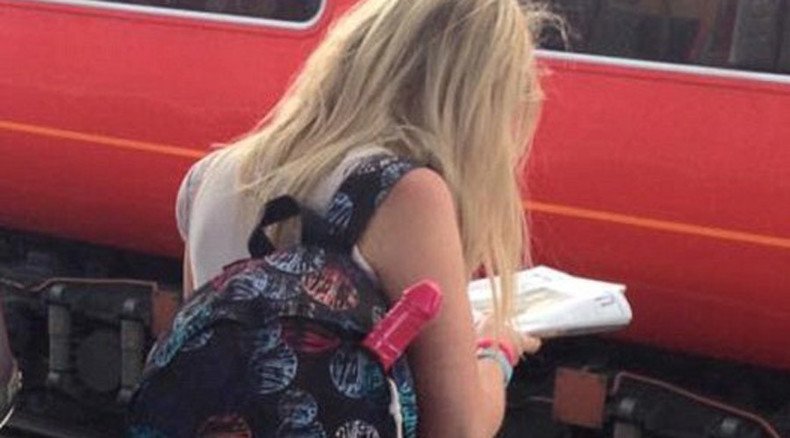 In response to a new state law that will allow gun owners to bring their weapons on campus, hundreds of students at the University of Texas at Austin are planning to open-carry items that still aren't allowed in classes: dildos.
Governor Greg Abbott (R-Texas) signed a bill into law that allows people with concealed-carry permits to bring their guns into most places on university campuses starting August 1, 2016. Now thousands of students have signed up to "strap gigantic swinging dildos to our backpacks" in protest of the new law on August 24 next year, the first day of classes after the law comes into force. The #CocksNotGlocks hashtag is getting Twitter to stand at attention.
READ MORE: Guns galore: Texas legalizes open carry in public, on campus
The "Open (DILDO) Carry" protest is the brainchild of 24-year-old Jessica Jin, a recent graduate of UT Austin.

"'You're carrying a gun to class? Yeah well I'm carrying a HUGE DILDO,'" Jin says in the Facebook event's description. "Just about as effective at protecting us from sociopathic shooters, but much safer for recreational play."

The idea came to Jin while she was sitting in traffic and listening to reports about the recent strings of campus shootings. "I felt a lot of frustration at those who were still trying to explain away or make excuses for this repeated pattern of violence and said to myself, 'Man, these people are such dildos,'" she said.
This led the curious alumna to discover that there is a law on the books in Texas that specifically prohibits sex toys in school buildings. To Jin, the contrast between dildos being banned in classrooms and weapons being welcomed is nothing short of ridiculous.
"The State of Texas has decided that it is not at all obnoxious to allow deadly concealed weapons in classrooms, however it DOES have strict rules about free sexual expression, to protect your innocence," Jin wrote on the Facebook page. "You would receive a citation for taking a DILDO to class before you would get in trouble for taking a gun to class. Heaven forbid the penis."
The event was created the same day that a student was killed in a shooting at Texas Southern University and another died at Northern Arizona University, and only about a week after the deadliest campus shooting of the year in Roseburg, Oregon.
READ MORE: Texas Southern University on lockdown after 2 shot, 1 fatally
As of Monday afternoon, 4,800 have indicated on the event's Facebook page that they will be participating, while around 1,000 marked that they may be joining the "strap in."
The logistics and cost of thousands of students equipping themselves with plastic penises is pretty daunting, and Jin is looking into a novel solution for to satisfy her protest needs.
"I know that quality dildos, especially super large ones, can be a little pricey," she notes in the Facebook page's description. "If we can gather enough willing participants, I will personally take it upon myself to put in the time and legwork to find a dildo supplier sponsorship."
The explosion of support for #CocksNotGlocks has also come with online threats made against Jin, which caused her to contact the Austin Police Department.
"People want me dead for a dildo," Jin told the Houston Chronicle. "It's the type of reaction that we could only hope to see from them when they hear of a child being gunned down in a classroom."
Daniel Hamermesh, a professor of economics at UT Austin, is protesting the campus carry law with his own weapon: his resignation.
"I don't want to bear the increased risk of facing a student in my office that gets disgruntled and pulls a gun out on me," he says.
Other members of the University of Texas system are also against the new measure, not the least of which are UT Chancellor Bill McRaven, a former admiral, and UT Austin President George Fenves.
The campus-carry law doesn't apply to private schools, and doesn't go into effect for community colleges until August 2017. It also includes a stipulation that allows individual universities to have some say in how the policy is implemented on their campuses. But Hamermesh isn't confident that this leeway will be enough to allow universities to make meaningful decisions.
"Right now, the [UT Austin] president is holding a bunch of forums and has a committee designed to decide what they can limit in terms of the places where you can't carry guns," Hamermesh said. "But a general limit saying no guns in offices, I don't think that's going to happen, and similarly, no guns in classes, I don't think that's going to happen. You can't do that politically given what the legislation was passed as."
Arkansas, Kansas, Mississippi, Oregon and Wisconsin have passed similar laws, while Colorado, Idaho and Utah mandate that concealed guns are allowed on campus, regardless of the feelings of the individual schools.
You can share this story on social media: