Black Lives Matter says Hillary promised to end private prisons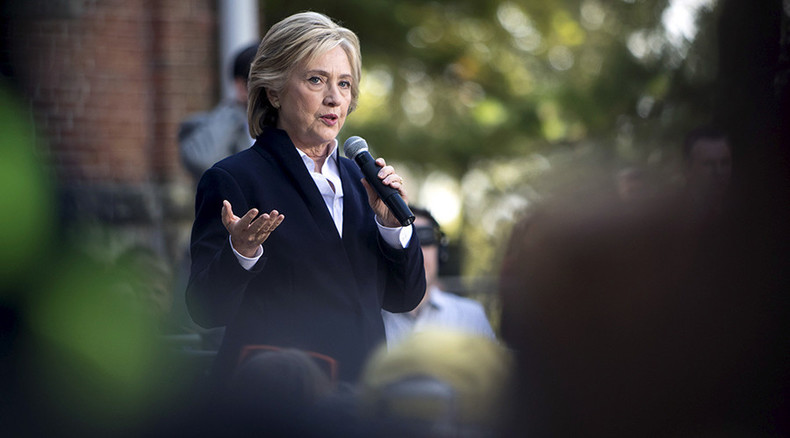 Democratic presidential frontrunner Hillary Clinton told the Black Lives Matter movement on Friday that she would end private prisons. Exactly how that might work is still being worked out by her campaign team, which is supported by private prisons.
Clinton spoke privately with Black Lives Matter activists for 90 minutes to address the issue. One of the activists, Deray McKesson, told MSNBC when coming "literally just from the meeting" that Clinton had promised to end imprisonment for profit.
Such a position may not be exactly palatable to some of Clinton's major campaign supporters, however. In July, The Intercept ran a report on top Clinton "campaign bundlers," people who collect donations for the campaign in exchange for direct access to the candidate.
One of them is Richard Sullivan, whose experience lobbying for Geo Group, a for-profit prison and immigrant detention center, helped him raise nearly $45,000 for Clinton in a matter of months. Another is Brian Popper, who lobbied for the Akin Gump Strauss Hauer & Feld firm, a legal arm of the US' largest private prison company, Corrections Corporation of America. Popper also worked for CCA as a human firewall against Freedom of Information Act (FOIA) requests. The Akin Gump group also has four other lobbyists "bundling" for Clinton.
Clinton's priority on the campaign trail has been to show her human side by appealing directly to the voters. It's a political makeover for a candidate who supported tough on crime legislation in 1994 that funded more prisons, 100,000 additional law enforcement officers, stricter mandatory minimum sentences, and increased gun laws.
Clinton's newfound interest in ending private prisons came just one day after being heckled by an immigration activist over her ties to private prison lobbyists.
In national Democratic presidential polls, Clinton is averaging about 42 percent, far ahead of her nearest competitor, Senator Bernie Sanders (I-Vermont). Sanders is becoming more competitive in Iowa and New Hampshire, however, and Clinton's setting aside an hour and a half to meet with Black Lives Matter could be a sign of heightened pressure.
Black Lives Matter activists have also made clear they are not dupes for Democrats, so come general election time, if Clinton is the Democratic nominee, it will be telling to see how she addresses the issue of criminal justice reform.