US House votes to lift 40-year-old ban on crude oil exports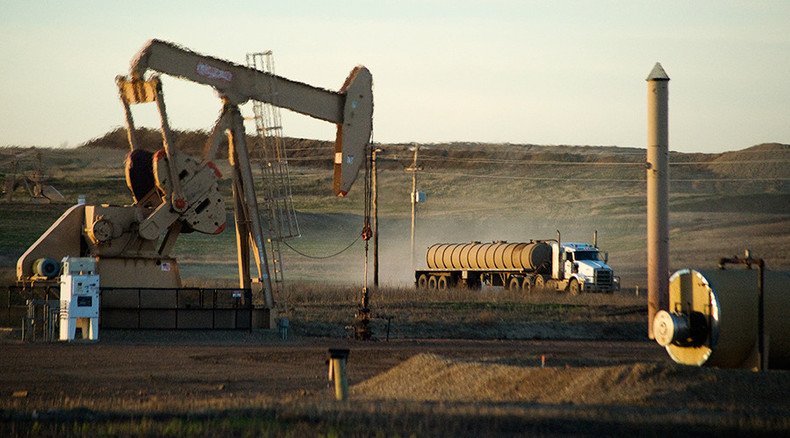 The US House of Representatives has voted in favor of lifting a four-decade ban on oil exports. Lifting the prohibition has been a years-long priority for the oil industry and its lobbyists.
Lawmakers voted 261-159 in favor of lifting the ban on Friday, with 26 Democrat lawmakers joining 235 Republicans in the vot. However, they were 55 votes short of being able to override a presidential veto. President Barack Obama has promised to reject the proposal if it were to pass Congress.
Debate on the issue now moves to the Senate, where the measure faces a sharp hurdle to passage and needs Democratic support to get it over the 60-vote hurdle to end debate on the issue.
The White House has said that Congress should instead "be focusing its efforts on supporting our transition to a low-carbon economy."
The House measure has the backing of oil and gas corporations, who argue that lifting the ban would create jobs and stimulate more US petroleum production. Already, US production has increased 80 percent since 2008 and helped drive down the global price of oil to half of what it was in the summer of 2014.
"An extra dollar or two for the price of our product today is very important because our margins are incredibly squeezed," Doug Suttles, the chief executive of Encana, a Canadian company that pumps oil and gas in the US, told the Wall Street Journal
More than a dozen oil companies, including Hess Corp, ConocoPhillips and Encana, formed a coalition to press the matter with Congress for over than a year, the Wall Street Journal reported.
"This is a vote to level the playing field for US workers and businesses who should be allowed to compete against foreign oil suppliers like Iran and Russia," George Baker, executive director of the coalition of more than a dozen oil companies, which also includes Marathon Oil Corp and Apache Corp, told the Journal.
The prohibition was put in place by Congress after the 1973 Arab oil embargo sent domestic prices skyrocketing. The embargo was implemented when the US imported, on average, some 3.2 million barrels of crude oil and 3 million barrels of petroleum products per day. By 2005, US imports grew by 66 percent, with crude oil imports more than tripling to 10.1 million b/d and 3.6 million b/d for other petroleum products.
Much of what the US imports is heavy crude. Over the last 25 years, oil refiners have spent $85 billion reconfiguring their refinery plants so they can process heavier crude from places like Mexico and Venezuela. Heavier crude also sells at a discount, and a US Energy Department analysis from September estimated that American refiners' profits could be more than $22 billion lower by 2025 if the oil-export ban is lifted.
Then there is the oil industry's hydraulic fracturing in shale formations, which produces a lighter ("sweet") crude which the US refineries are not able to process unless they makes investments to reconfigure their facilities. Asian and European refineries could handle the light crude oil, according to a paper by the Aspen Institute published last year, but companies argue they can't export the crude to the market because of the embargo.
However, the US already exports more than half-a-million barrels of crude a day to Canada, the biggest exemption under the ban, according to the Wall Street Journal. Last year, the Commerce Department allowed companies to export light crude oil after minimal processing. In August, the department said it would begin allowing companies to export US crude in Mexico.
Dissenters say that lifting the ban would lead to higher gasoline prices and increase greenhouse gases to dangerous levels. More than 40 environmental organizations, with millions of members, wrote to Congress days before the vote to express their concern about the measure.
"Supporters of lifting the crude oil export ban have argued that when confronted by additional US supply, Organization of the Petroleum Export Countries (OPEC) will reduce production in order to support higher oil prices. This conventional wisdom has been proven spectacularly wrong over the last year. In fact, global oil production could remain high and lead to dramatic increases in emissions," wrote the Sierra Club, Greenpeace and Earthjustice, among 43 others.
"Instead…the US should play a leading role in international efforts to transition to clean energy and keep the world within safe climate limits," they added.
An argument made by Republican lawmakers is that lifting the ban would lead to lower prices. Because of the US oil boom, the monthly average price for a gallon of gasoline in September was $2.46, the lowest since 2004, according to government data.
You can share this story on social media: