Hundreds of gun rights activists protest Obama during visit with Oregon shooting families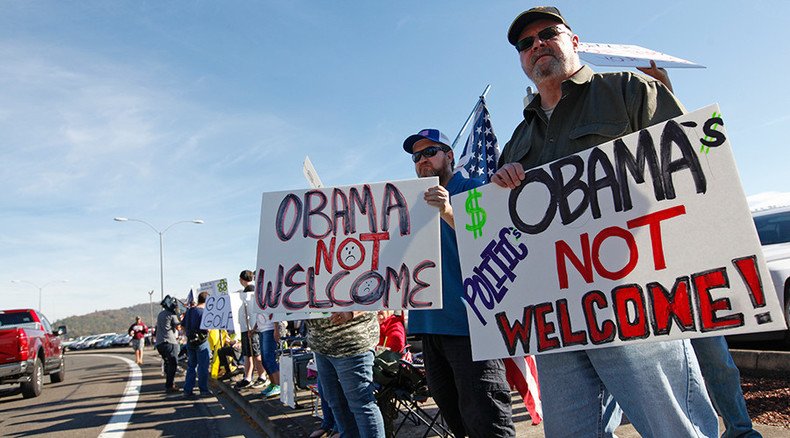 Both anger and gratitude lined the streets as a presidential motorcade made its way to Umpqua Community College in Roseburg, Oregon, where a gunman killed nine and injured seven before killing himself last week.
Emotions were brewing early as protesters arrived in the morning to send a strong unwelcoming message. They took issue with President Obama's timing and questioned his motives for coming to meet with families of the victims. Supporters were just happy to catch a glimpse of the passing motorcade, knowing Obama had taken the time to console a grieving community.
The debate over gun control isn't cooling a bit, as news of two other campus shootings came on Friday. At Northern Arizona University, a freshman shot another student dead and injured three others. Texas Southern University also experienced a shooting on Friday, resulting in one student's death and another injured.
In Roseburg, however, it's about more than just gun control. Residents are more conservative than most of their fellow Oregonians, and they showed it. Some of the hundreds of protesters waved signs against gun control, and others targeted Obama personally.
One protester, Willie Windom, said Obama was "politicizing the shooting at the college for his own gains. He wants to take away gun rights," and then went on to say, "This country used to have a lot of respect from everybody else. Now we've got no respect whatsoever. When Vladimir Putin starts to look good by comparison, we're in trouble."
Some people were just trying to go about their daily routines and errands, but they couldn't avoid the spectacle. Drivers trying to leave a Home Depot were held up by the motorcade.
"Obviously, in moments like these, words aren't going to bring their loved ones back," Obama told reporters while standing with Roseburg Mayor Larry Rich and Oregon Governor Kate Brown. "But the one thing that they shared is how much they appreciate the entire UCC community coming together, how much they appreciate all their neighbors, all their friends and people all across the country who offered to help, who sent their thoughts and their prayers."
There has been speculation that, sooner or later, Obama will give more than just thoughts and prayers. One gun control plan suggested to the White House would broaden the scope of federal licenses that are currently only required for companies "engaged in the business" of selling guns. As of now, a company is not "engaged in the business" if there are only occasional sales, exchanges, or purchases for the benefit of a personal collection or hobby. That would change if executive action sets a maximum number of annual firearm sales permissable before a company would be required to obtain a license requiring background checks on all future purchasers.
How many sales? The White House eventually landed on the number 50, according to the Washington Post, but some officials with the Alcohol, Tobacco and Firearms Bureau and White House legal counsel cautioned against setting an arbitrary number, saying it could be easily challenged in the courts. The idea was proposed by former congresswoman Gabrielle Giffords and Mark Kelly, her husband, just nine days before the Oregon shooting.
Obama met with families of victims privately in the 12 o'clock hour at Roseburg High School before making a brief statement to the media. He was back on Air Force One before 2 pm to continue on a West Coast tour that will include fundraisers.
Traveling with Senators Ron Wyden, Jeff Merkley, and Representative Peter DeFazio – all Democratic lawmakers from Oregon – the next destination would be for a Democratic National Committee roundtable in Seattle, Washington. Obama's Friday schedule ends with a similar event in San Francisco.
You can share this story on social media: