'National problem': NYPD's use of force training has been terrible for years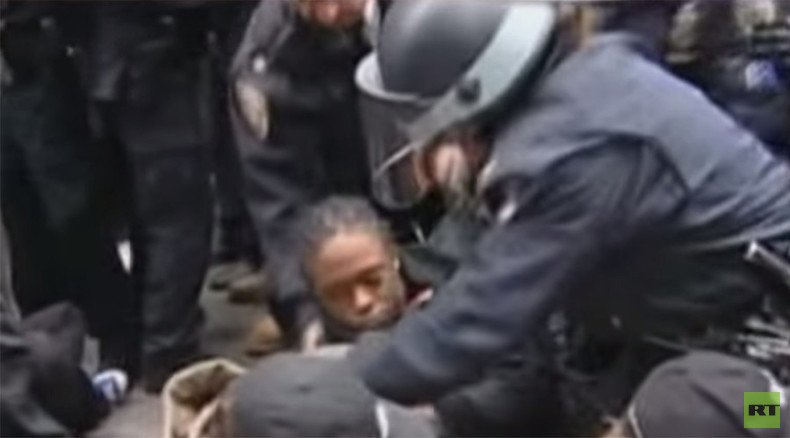 A new report has found that the New York Police Department has been improperly training officers on the use of excessive force for years, according to an investigation by the NYPD Inspector General.
The IG's report analyzed 179 cases between 2010 and 2014 in which the Civilian Complaint Review Board (CCRB) found police officers had used excessive force, a figure it called "a notably modest number, given the size of NYPD, and a positive indication of the NYPD's restraint."
However, the report's findings have raised numerous concerns, Alex Vitale, an associate professor of Sociology at Brooklyn College told RT.
"In those cases, they found many of the officers didn't report the force they used, used unnecessary force, failed to de-escalate confrontations when they could have, and in some cases instigated aggressive interactions that were totally unnecessary," he said.
The report found that Police Commissioner Bill Bratton had not disciplined cops in many of the cases, even when the CCRB substantiated the allegations. In 37 out of 104 cases, or a third of the incidents for which the IG had recommended discipline, he meted out no punishment.
Other findings were that there was a failure to track use-of-force encounters by officers, and a lack of a centralized form for reporting use of force for monitoring the problem.
"This is a national problem, and a pervasive problem in policing globally," Vitale told RT. "Police are much more likely to be disciplined for administrative infractions or corruption than they are for the use of force."
Vitale said that unless there is "excessive scrutiny or video evidence," officers are going to be given a pass.
"Too often force is just seen as unavoidable part of the job and that, if there is too much criticism of the use of force, this will tie the hands of the police," he added. "This is the kind of response we have seen from police union leaders in New York about efforts to tighten up the use of force."
The investigation went further and also analyzed the Police Academy's nearly 500 hours of coursework. It found cadets only received one nine-hour course, entitled "Use of Force," that directly related to an officer's methods, and one 4.5-hour course, entitled "Policing Professionally," that addressed de-escalation techniques. This represented just 1 percent of the total curriculum, the report said.
Excessive force claims, however, are now being caught on camera and often refute what police departments had claim to happen during encounters with officers. A recent example is the shocking cell phone video that captured police using a chokehold on Eric Garner of Staten Island in July 2014. The banned restraint led to his death and, consequently, national protests over police brutality.
"We are experiencing a legitimacy crisis of policing in communities of color in the US, where the word of the police is not taken as seriously as it has been in the past," Vitale said. "This is showing up in court cases here in New York, where we even had a term for it – 'testilying' – that even the police said was a problem. So police have work to do in rebuilding their credibility, and appropriate reporting over the use of excessive force is part of that."
The IG report comes with recommendations, including updating the Patrol Guide to clarify what is meant by "force," "excessive force," and "deadly physical force." It advises requiring officers to de-escalate in all encounters where appropriate. Other recommendations include adding course work on de-escalation techniques to the Police Academy's curriculum, the creation of a central database to track use-of-force forms, and the compilation of an annual report.
"Clearly, when you look at what other police departments are doing, including the Los Angeles Police Department, the Seattle Police Department, they have modern, state-of-the-art use-of-force policies," Inspector General Philip Eure said at a news conference last week detailing his 62-page report, according to the New York Post. "NYPD was living a little bit in the dark ages in respect to its use of force policies."
You can share this story on social media: