NJ pharma corp employees tested for HIV, hepatitis after nurse reused syringe for flu shots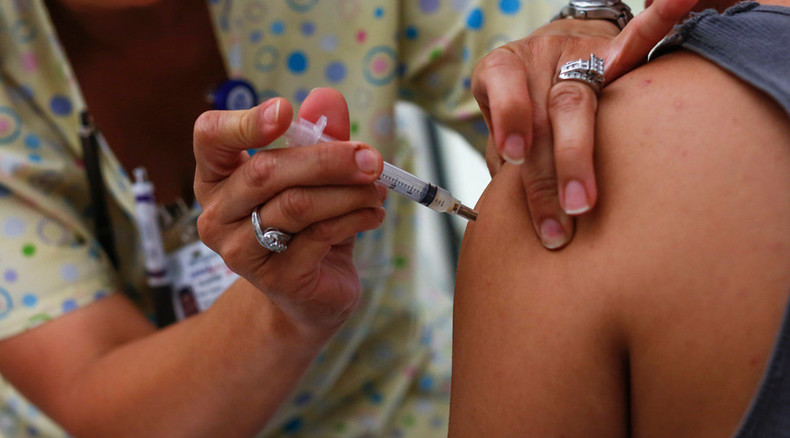 Nearly 70 employees at the Princeton, New Jersey office of a Japanese pharmaceutical company are being tested for blood-borne diseases after a nurse who gave them flu shots in September used the same syringe for multiple vaccinations.
The New Jersey Department of Health (NJDOH) informed 67 employees at Otsuka Pharmaceutical that they may have been exposed to "infected blood," after a September 30 on-site vaccination by a nurse contracted by healthcare provider TotalWellness.
Officials with TotalWellness told WCAU that the nurse "failed to follow proper medical procedures and safeguards."
"The needles were changed between each patient but the syringe was reused multiple times," the health department letter explained. "Syringe reuse may have exposed you to infected blood. At this time NJDOH is not aware of any disease transmission, but you may be at risk for developing an infection as a result of this improper practice."
While the risk of infection was described as "low," the NJDOH officials recommended the employees undergo testing for HIV and hepatitis B and C. NJDOH, TotalWellness and the Centers for Disease Control and Prevention (CDC) administered free blood tests to Otsuka employees on Monday and Tuesday. It may take weeks to get the test results, however. Officials also said the employees will need to be re-tested in four to six months.
In addition, the employees have been urged to take another flu shot, because the dose they received on September 30 was less than recommended.
"Receiving less than the recommended amount is not harmful, but you might not be fully protected against the flu," the NJDOH officials wrote. "We are recommending that you get another flu shot this season to ensure that you are completely protected. There will be flu shots available to you at the testing and vaccination clinic in West Windsor, should you decide to get revaccinated."
It remains unclear whether any disciplinary or legal measures have been taken against the nurse, who has not been named.
Headquartered in Tokyo, Japan, Otsuka Pharmaceutical is known for the schizophrenia and bipolar disorder drug Abilify, one of the highest-grossing medications worldwide before its patent expired in October 2014. Otsuka also makes the sports drink Pocari Sweat and the energy drink Oronamin C.