African slaves 'workers'? Description in Texas schoolbook creates uproar, publisher rewriting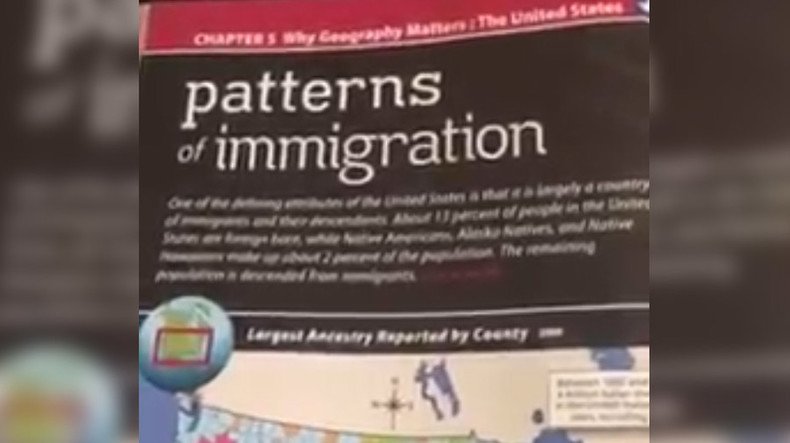 Where does geography meet history? A schoolbook book calling African slaves "workers" in pages titled Patterns of Immigration was discovered by a concerned mother in Texas. After she exposed the gaffe on Facebook, the publisher found itself in hot water.
Roni Dean-Burren, a mother of a 15-year-old schoolboy from Texas, posted a photo that was later deleted, and then a video of a McGraw-Hill World Geography textbook for a ninth-grade geography class with a passage on immigration referring to African slaves as "workers."
Many of you asked about my son's textbook. Here it is. Erasure is real y'all!!! Teach your children the truth!!!#blacklivesmatter

Posted by Roni Dean-Burren on 1 октября 2015 г.
The video has been viewed more than 1.5 million times and counting. Many people were insulted by the wording and took their indignation to Twitter and Facebook.
The textbook reads less like a textbook and more like a satirical mockery of how conservatives want textbooks to be #TYTlive#McGrawHill

— Nathan Katz (@Agent_of_Cruxis) October 5, 2015
Some of them even drew parallels with Jews oppressed under the Nazi regime, wondering how McGraw Hill Education would deal with those tortured in concentration camps.
The publisher had no other choice but to admit its mistake after Dean-Burren started giving interviews to various news agencies across the US and was invited to appear on TV.
Schools with #McGrawHill books should demand refunds for DEFECTIVE textbooks and free access to the digital version for 5 yrs

— Leslie NOPE. (@Dani_Knope) October 4, 2015
McGraw Hill Education posted an official apology on its Facebook page and promised to reword the controversial part of the textbook.
"…we conducted a close review of the content and agree that our language in that caption did not adequately convey that Africans were both forced into migration and to labor against their will as slaves." McGraw Hill Education said in the post.
"To learn from this and to do all we can to prevent this from happening again, we are reviewing our internal processes to understand how it occurred," another post goes.
Those who already own a copy of the textbook were given the choice of either hiding the disturbing caption under a sticker or receiving a replacement book.
"We are offering our customers who are currently using the book a choice of either a sticker to cover and replace the caption or a new, corrected, printed copy of the book," McGraw Hill wrote.
The first idea, however, was met with a great deal of ridicule in the comment section and a repeated demand to "recall and replace."
"The Atlantic Slave Trade between the 1500s and 1800s brought millions of workers from Africa to the southern United States to work on agricultural plantations," the book says.
Dean-Burren and many others on social media were especially angered by the implication that slaves were merely labor migrants who hadn't been forced to come to the US to work on agricultural plantations.
"[Slavery] is now considered immigration?" asks Dean-Burren on the video.
Another passage points out that Europeans who came to the US as indentured servants worked for little or no pay. However, there were no similar comments on people coming from Africa.
"They say that about English and European people, but there is no mention of African immigrants working as slaves or being slaves. It just says that we were workers," she said.
You can share this story on social media: