Senator blocks State nominations over Secret Service scandal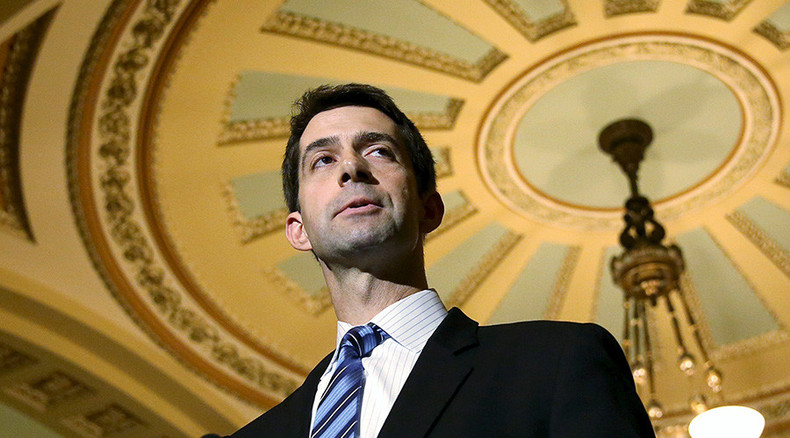 In an aggressive move, Arkansas Senator Tom Cotton said he is blocking three State Department nominations over a Secret Service leak of information on a Congressman. He also called for the Justice Department to conduct a criminal investigation.
"I'm not yet at the point of calling for a total blockade on all executive branch nominations, though I may reach that point," Cotton, a Republican, said during his announcement on the Senate floor on Monday, according to the Associated Press. "I did register an objection to three prominent political nominations... When President Obama and Secretary Johnson take appropriate action, I will likewise take action and release these."
Cotton's announcement puts nominees for ambassadorial posts in the Bahamas, Norway and Sweden on hold. He also called for the Justice Department to be tasked with launching a criminal investigation.
"This was apparently a violation of law, and absolutely shocking conduct," Cotton said in an interview with The Washington Post, referring to the Secret Service leak. "The executive branch all the way up to the West Wing needs to treat this with the seriousness it requires."
Last week, Secret Service Director Joseph Clancy admitted that he had misinformed federal investigators when asked about when he found out that his employees had accessed a record revealing that Congressman Jason Chaffetz (R-Utah) had applied to be Secret Service agent in 2003 and been rejected. Accessing and sharing such personnel information, with rare exceptions, is a violation of federal privacy law.
"How could this happen?" Cotton asked, according to the Post. "How could someone hired to change the culture of his agency be so indifferent to potential illegal activity and to such a constitutional affront to the legislature that he did nothing? Absolutely nothing until the press broke the story."
"If he intentionally misled investigators, he has to be fired," Cotton said. "But even if he didn't mislead anyone, his conduct is not what we would want or expect from the person in charge of reforming this agency."
Cotton told the Post that officials need to reconsider whether Clancy is the right person to reform the Secret Service. Clancy, a 27-year veteran of the agency, was an appointee by President Obama despite a panel recommendation in December 2014 suggesting that the next director be an outsider.
The Department of Homeland Security's internal watchdog also said on Monday that it was reopening its own investigation "into efforts by the Secret Service to discredit a congressman."
Inspector General John Roth said his investigators will conduct additional interviews and "take other investigative steps" before issuing an addendum to the report released last week. That report found that 45 agents and supervisors had peeked at Chaffetz's personnel file, which was stored in an internal Secret Service database and was required to be kept private by law.
The report said that 18 supervisors, including the deputy director and Clancy's chief of staff, knew that the information had been accessed from within the agency. However, it said that Clancy had never been informed.
The report also found that Chaffetz's records had been accessed about 60 times by officials from across the country, including those working in headquarters in Dallas, Boston and Phoenix. One agent even logged in from London.
Before details of Chaffetz's application became public in the Daily Beast and The Washington Post, Assistant Director Ed Lowery wrote an email to another assistant director saying the leak would embarrass Chaffetz.
The White House declined to comment on the scandal on Monday. In a news briefing last week, White House spokesman Josh Earnest said the president takes the leak of private information very seriously.
The Secret Service has been under intense scrutiny due to a series of high-profile lapses. In March, two top supervisors spent a night drinking at an agent's retirement party before driving towards the White House complex, through barricades, and straight into an investigation of a suspected potential bombing incident. The two men were allowed to drive off without taking a sobriety test.
In February, an off-duty defense employee piloted a drone that crashed onto the White House lawn. Four months prior, a man with a knife climbed over the White House fence and made it deep inside the building before being tackled by officers. In 2011, a gunman three quarters of a mile from the White House fired shots that hit the building while one of President Obama's daughters was inside.
The Secret Service's previous director, Julia Pierson, resigned in October of 2014 after a number of security lapses. A critical report released in December found the agency was stretched beyond its limits, too insular, and "starved for leadership."
Five agency managers were removed from their positions in January as a result.