'Bubbles are all over the place': Ron Paul speaks to RT on US economy & presidential race
Published time: 4 Oct, 2015 00:43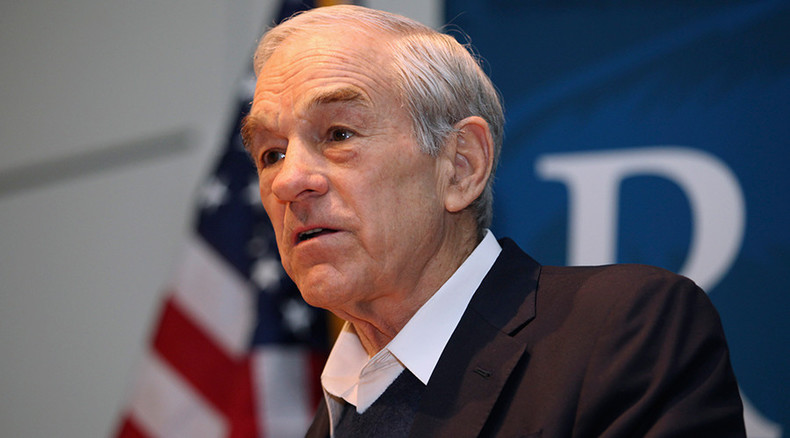 The US 2016 presidential race is mass entertainment orchestrated by the media, three-time presidential candidate and former congressman Ron Paul told RT, as he discussed frontrunner Donald Trump, the government and the "bubble-making" US economy.
Paul told RT's Ameera David that billionaire presidential hopeful Trump, who earlier vowed to build a massive border wall and end birthright citizenship for babies born to undocumented immigrants, is nothing but an authoritarian.

"He is an authoritarian and he brags about it: 'I'm the boss, I tell people what to do.' The government happens to be a little different than that. The only thing that you want to do if you believe in the market is you want to get rid of the government. But he is talking about having strong taxes on imports, he wants to punish people, he is 'the boss.' So I think he'd be very dangerous to the economy."
"He is getting a lot of attention right now, but he is an authoritarian. He wants to run people's lives and run the world and run the economy, because that's the way he lives his life. On occasion he comes up with the correct idea, but an authoritarian is the opposite of a libertarian. A libertarian wants to release creative energy to the individuals. We want to get the government out of our lives, out of the economy, and out of all these places around the world. It's quite a bit different from the way an authoritarian would approach our problems," Paul said.
READ MORE: All wars paid for through deficit financing, debasing the currency – Ron Paul to RT
The US economy is set to grow 0.9 percent in the third quarter after a bigger-than-expected widening of the trade gap for goods in August, according to the Atlanta Federal Reserve's GDPNow. This appeared to be a much slower rate from the regional Fed bank's prior estimate of 1.8 percent last week, the Atlanta Fed noted.

"It's just the beginning of a downturn, nothing's really happened yet," Paul said. "Everything is misdirected because of the price of money. There are bubbles every place. You have a stock market bubble, you have still bubblemaking in housing when you see houses selling for $500 million, and you have a bubble in student loans."
"The bubbles are all over the place. This is the problem. I don't see an easy way out. I think the markets are going to go down a lot more when you realize how serious this is. Actually we are doing better than the rest of the world but we're in for trouble too because the world has never had a situation like this where a whole world endorsed a paper currency and had pyramiding of debt around the world by the reserve currency which is the dollar.
"It's the biggest bubble ever, so it's going to big the biggest crash ever, but it remains to be seen exactly when that's going to hit."
The source of the trouble is the Federal Reserve System, which simply cannot work in a real market economy, Dr Paul said.

"In a true free market economy you have to have people work, use what they need to live on and then save money, and that dictates interest rates and tells businessmen what they should do. Well, that isn't the way it works any more. The so-called capital comes from the Fed and they create it out of thin air. So everything is a mistake and everything is going to be volatile. You can do this for a while when the country is very very wealthy, and a currency is very very strong."
"But eventually people mistrust the government. They don't pay interest, they have a huge amount of principal to pay, and corporations are deeply in debt, they borrow a lot of money practically for free and they buy up their stocks. It's a mess. It's artificial. It has nothing to do with freedom, has nothing to do with free markets, and the sooner we realize this, the sooner we'll get rid of central economic planning and especially look into the serious problems we get from the Federal Reserve System."