Oregon campus shooter killed self during standoff with police – medical examiner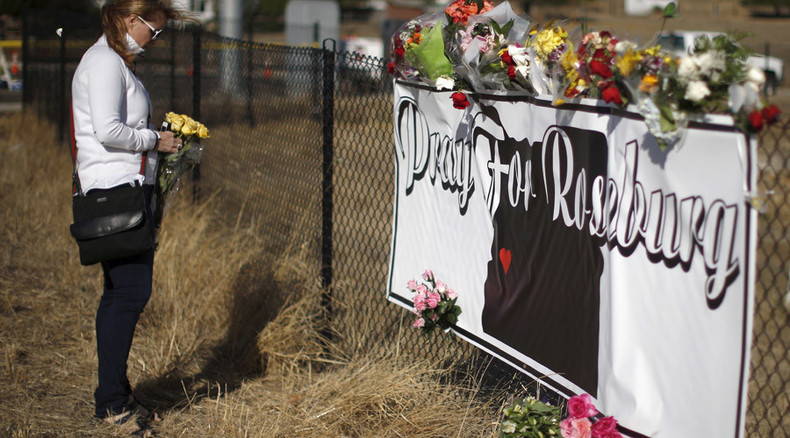 The 26-year-old perpetrator of an appalling attack on Umpqua Community College, in which nine people were killed, committed suicide during the standoff with police, Oregon officials have announced. The family of the shooter has offered its condolences to the victims.
The Oregon State Medical Examiner concluded that the shooter, identified earlier as Christopher Sean Harper-Mercer, had killed himself in the standoff with police, Douglas County Sheriff John Hanlin, told reporters on Saturday.
Hanlin noted that Mercer exchanged fire with two officers before committing suicide, contradicting earlier statement the shooter was "neutralized" by police. Authorities have recovered 13 weapons, including six found at the college. Detectives are continuing their investigation trying to uncover the motive for the deadly rampage.
So far the Sherif''s office alleges that Mercer might have suffered from mental problems and could have been inspired by previous mass shootings that took place across the US.
The gunman's father, Ian Mercer, seemed to agree with the investigation's assessment. "Obviously someone who goes and kills nine people has to have had some kind of issue," he told CNN.
READ MORE: UCC shooting: Latest in long line of mass college campus killings
The deadliest mass shooting at a US school took place at Sandy Hook Elementary School in Connecticut back in 2012 when 20 elementary school students and six adults were killed. There have been 142 school shootings in the country since that fateful day, according to data compiled by the group Everytown for Gun Safety.
READ MORE: Deadly tragedies like #UCCShooting are frequent in the United States
Officials say that the shooter left behind a long typed statement, where he wrote that he felt lonely and confessed he was inspired by previous mass killings. Investigators believe that the 26-year-old was also obsessed with guns, white supremacy and religion, with witnesses claiming he was asking his victims their religion before shooting them execution-style.
The shooter's father meanwhile questioned how the US laws allowed his son to purchase such a large arsenal. Authorities said that all of Mercer's guns were purchased legally.
"How is it so easy to get all these guns?" the father told CNN. "I've never held a gun in my life. You have to ask the question, how did he compile such an arsenal?"
The Mercer family released a statement about the shooting, saying they were "shocked and deeply saddened by the horrific events that unfolded."
"Our thoughts, our hearts and our prayers go out to all of the families of those who died and were injured," the family wrote in a statement released to KPTV by a spokesperson.