Explosion, gas leak injures six in high-rise near Miami Beach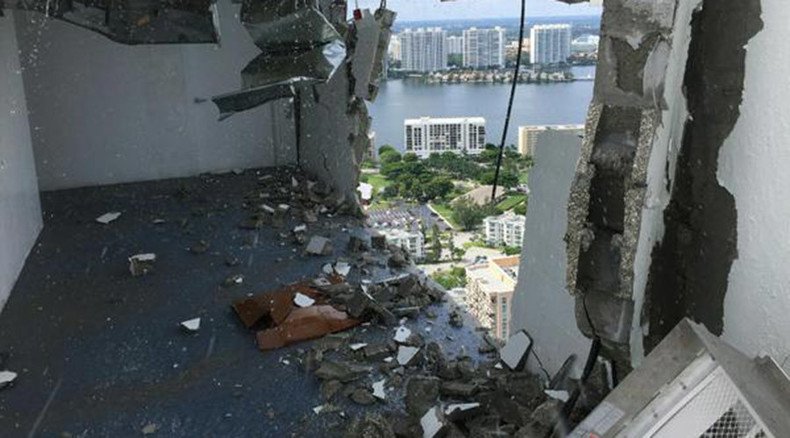 Six people, including two firefighters, were injured after an explosion at a high-rise building in Sunny Isles Beach, Florida. The blast appears to have originated in the boiler room, and there are reports of a gas leak, according to WSVN.
The explosion occurred at the Chateau Beach Condo, in Sunny Isles Beach, a city on a barrier island directly east of North Miami Beach. A large hole can be seen in the building.
Multiple emergency units are on the scene, and it has been listed as a Level 3 Mass Casualty Incident, meaning at least 20 people are hurt, officials told WSVN.
Original reports said that at least 34 people were injured, but the Miami-Dade Fire Department later revised that number to six. One person was airlifted to a nearby hospital, while two others were transported by ambulance. A fourth was treated at the scene. Two firefighters were injured.
"There was [an] explosion at the top of the building. We are on scene with Ocean Rescue, assisting them as they need us," said Sunny Isles Beach Sgt. Brian Schnell.
A firefighter on the scene told WSVN that two people is trapped in an elevator, which is stuck on the third floor.
Pedestrians may have been struck by large pieces of concrete from a side wall. Glass and debris also rained down on beachgoers and hotel patrons next door to the condo.
"When I turned, I saw [the concrete] was coming down," a man standing near the building when the explosion happened told WSVN. "I see people coming out [and within] two minutes, police were here. That was crazy."
Several people are being treated for severe burns and will be sent to area hospitals.
An active gas leak was reported near the scene at the adjacent Travelodge Monaco, WFOR reported.
The 33-story building was under construction. Argentine developer Manuel Grosskopf and his father Sergio broke ground on the 84-residence project in January 2013. The completion date is listed only as 2015, according to real estate company Linda G Properties.
It is now a two-alarm fire, according to Alertpage Inc.
You can share this story on social media: