US military presses to keep troops in Afghanistan beyond 2016 - report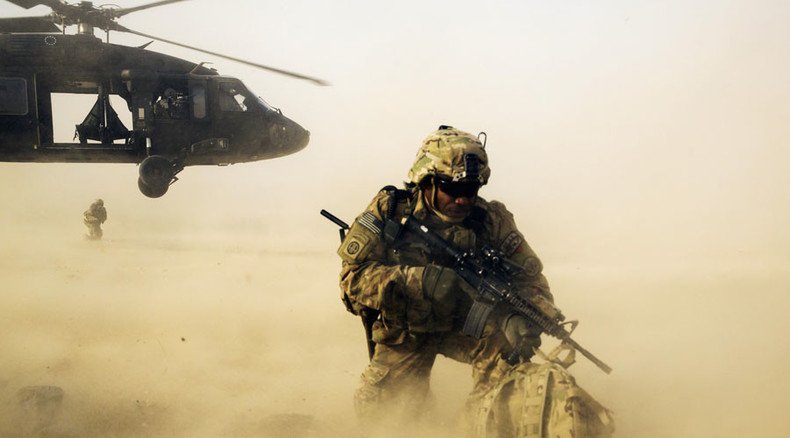 Following a battle between the Taliban and Afghan forces in the northern of city of Kunduz, the US military has resurrected a proposal to keep at least a few thousand American troops in Afghanistan beyond 2016, the Associated Press reported.
If the plan is approved it would represent a reversal for President Barack Obama, who has pledged to remove all American troops from Afghanistan by the time he leaves office.
For now, Afghan special forces have taken back the main areas of Kunduz from the Taliban in an overnight offensive on Wednesday, according to the Afghanistan Interior Ministry. The US had also conducted airstrikes around Kunduz and conducted two more airstrikes on Tuesday night to aid in the recapture.
"AFG Special Security Forces now controls Kunduz City, it is retaken and being cleared from terrorists, heavy causality to the enemy," Interior Ministry Spokesman Sediq Sediqqi said in a Tweet.
AFG Special Security Forces now controls Kunduz City, it is retaken and being cleared from terrorists, heavy causality to the enemy

— Sediq Sediqqi (@moispokesman) September 30, 2015
The rapidness of the Taliban's takeover of Kunduz, a city of 300,000 people, marked the group's first offensive capture of a major city since the US invaded 14 years ago in the aftermath of the 9/11 terrorist attacks. The takeover also highlighted the fragile security situation in Afghanistan and prompted speculation by military leaders about whether a complete drawdown of troops is the best plan.
Under the present plan, President Obama was working towards having about 1,000 military personnel left in Afghanistan as embassy-based security next year, down drastically from the 9,800 soldiers there currently. This would meet his foreign policy goal, announced during his second term, of ending the US war in Afghanistan and removing American troops by the time he left office in 2016.
The top US Commander in Afghanistan, Army General John Campbell, has given the administration several options for gradually reducing the number of troops over a 15-month period. US officials told the AP that the options all call for retaining a higher-than-planned troop presence to sustain the Afghan army and prevent losing more ground.
General Campbell's options, according to US officials, would be to postpone any major cuts in troop levels this year, "keeping as many as 8,000 troops there well into next year" and "maintaining several thousand as a counterterrorism force in 2017."
The AP said the proposition of a counterterrorism force was first raised in March during top-level meetings at a Camp David presidential retreat. It is a position favored by the Republican-controlled Congress and Afghan President Ashraf Ghani.
General Campbell is due to testify to Congress next week on the situation in Afghanistan. Republican lawmakers have been critical of Obama's approach – transitioning from wartime occupation to full Afghan security control – and have said the fall of Kunduz was a natural consequence of his plan.
In a statement, Senator John McCain (R-Arizona) said the Kunduz attack "is the latest manifestation of this dangerous reversal," reported Fox News.
McCain noted that Obama is "still on pace to withdraw all US combat troops from Afghanistan by the end of 2016," but urged the president to "abandon this dangerous and arbitrary course and adopt a plan for U.S. troop presence based on conditions on the ground."
You can share this story on social media: