Recreational marijuana sales now legal in Oregon as state removes old pot violations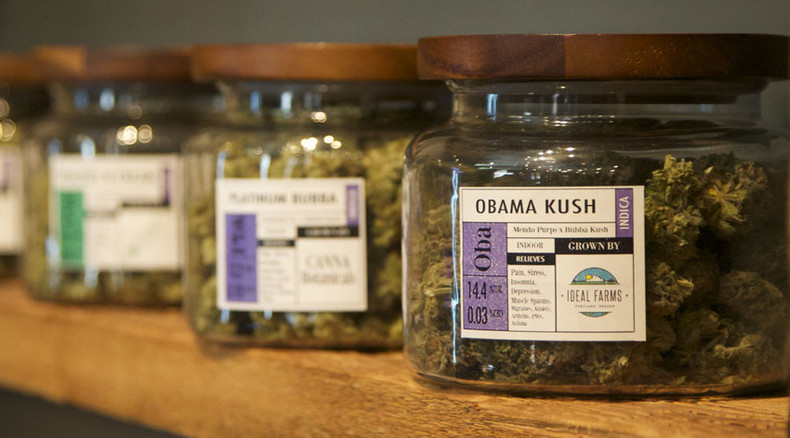 Under Oregon's recreational marijuana law, anyone age 21 and older can purchase up to a quarter-ounce from more than 200 medical dispensaries statewide starting on Thursday. Voters passed the recreational measure in the November 2014 midterm election.
Residents are allowed to have up to eight ounces of marijuana in their homes, can grow up to four plants, and can carry up to one ounce. Under the new measure, retail sales will be limited to dried flowers, plants and seeds. Marijuana-infused foods, candies, drinks and other edibles are not available to recreational shoppers.
However, the measure comes with restrictions: Federal laws have not changed the legal standard of marijuana from a Schedule 1 drug, which makes it equivalent to heroin or cocaine. In Oregon, a resident can't smoke pot in public or carry it over state lines – not even to Washington state – where the drug is also legal, according to The Oregonian.
An employee can still get fired under a company's drug-free policy if they test positive for marijuana use.
The Oregon Health Authority will oversee sales. That authority will transfer to the Oregon Liquor Control Commission next year, which will then oversee production, processing and retail sales.
For three months, pot shoppers will get a tax break, since the 25 percent sales tax is not kicking in until January 4, 2016. A year later, the sales tax will be changed to 17 percent, with local governments able to add another 3 percent depending on the outcome of a vote. It is estimated that sales will generate more than $30 million a year.
The tax revenue, after costs, will be distributed to government agencies. Forty percent will go to a common school fund, 20 percent to mental health, alcoholic and drug services, 15 percent to state police, 10 percent to cities for enforcement of the measure, 10 percent to counties for enforcement and 5 percent to the Oregon Health Authority for alcohol and drug abuse prevention.
There is still opposition in the state to the sale of recreational marijuana, and a number of cities and counties are blocking sales either through opt-out provisions or refusing business licenses to dispensaries.
Since voters passed the measure in November, it took nine months for the state to make recreational marijuana legal and three more months to arrange for its sale.
During a press conference in June with the American Civil Liberties Union, US Congressman Earl Blumenauer (D) said that fair taxation, banking and other gray areas still need work.
"This is a whole new industry that is being done in less than a year," Blumenauer said, according to Fox Q13. "Trying to deal with all these items, getting the regulations in place, to training to law enforcement issues. I'm very interested in focusing on making sure we keep this out of the hands of kids."
"We need to be flexible and be prepared because there will be things we don't know about. But we're off to a great start," he said.
Meanwhile, the New York Times reported last week that Oregon is busy expunging marijuana violations from citizens' records. Portland's Metropolitan Public Defender's office is running "expungement clinics" to forever seal records of past pot crimes, as marijuana violations can haunt people by limiting job opportunities and even volunteer work. Under the rules, anyone with a low-level felony or misdemeanor on their record that's at least 10 years old can have their record wiped clean.
In a related story, marijuana arrests nationwide are reaching record highs. In 2014, about 620,000 people were arrested for pot possession, the equivalent of 1,700 people per day, or more than one per minute, according to the Uniform Crime Report released by the FBI this week. The arrests were up by 7,000 from 2013.
"These numbers refute the myth that nobody actually gets arrested for using marijuana," Mason Tvert of the Marijuana Policy Project, a pro-legalization group, said in a statement, according to the Washington Post. "It's hard to imagine why more people were being arrested for marijuana possession when fewer people than ever believe it should be a crime."
A number of states are planning to put marijuana legislation on the ballot in 2016, including California, Arizona and Nevada, but the real change will come if or when Congress removes pot as a Schedule 1 drug. There has been little indication that lawmakers plan to move on that issue anytime soon.