'If we stop training, arming jihadists, the war will end' – Virginia state senator to RT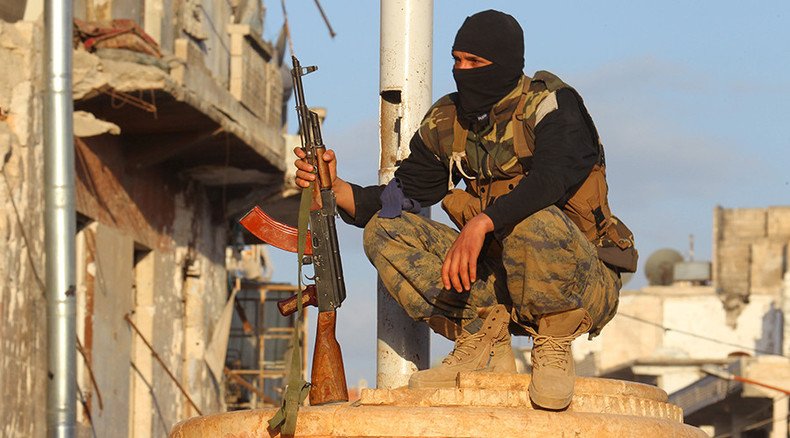 As the Syrian civil war continues to rage and Islamic State maintains its foothold in the region, Virginia state Senator Dick Black told RT that "if the US stopped training jihadists and arming jihadists, the war will end."
In a lengthy interview, the Republican state senator connected the crisis in Syria to the actions of countries such as Saudi Arabia and Turkey, who he said have armed extremists like Islamic State militants that are fighting against the Syrian government. He also blamed US meddling in the Middle East for the rise of terror groups like Islamic State (IS, also known as ISIS/ISIL).
"It is my hope and prayer that the United States wakes up and says it is time to end this slaughter. It is time to stop trying to topple regimes, bring order to the Middle East [and] stop the bloodshed. If we stop training jihadists and arming jihadists, the war will end."
The US has been criticized for its efforts to thwart IS, particularly its plan to arm and train moderate Syrian rebels to battle the extremists. US Central Command said Friday that it learned that the commander of a Syrian rebel group trained by the US to fight Islamic State had "surrendered" a quarter of his unit's military supplies to the Al-Qaeda-affiliated Al-Nusra Front in exchange for safe passage.
LISTEN MORE:
CENTCOM said the equipment given away by the commander included six coalition-issued pick-up trucks as well as ammunition. It doesn't appear that the commander gave the supplies directly to Al-Nusra, according to CENTCOM, but rather transferred them through an "intermediary."
With no near-term end to the conflict in sight, Black said Russia is looking to "resolve" the situation by moving military forces into the country.
"I am really, really pleased that the Russians are putting some people in there who are genuinely going to fight, because I am not entirely certain which side the United States is on. I think sometimes we play one side, sometimes the other," he added.
The state senator said the US has known for years that Al Raqqah was an Al-Qaeda and militant stronghold, but has done little to degrade its capabilities.
Black said that if Russia proceeds to use military force, he doesn't believe it will "allow Raqqah to function." He said he would advise Putin to coordinate with the Kurds and any anti-IS Sunni tribes to take down the city, but not before giving people a certain amount of time to leave.
"Flatten that city. Turn it into dust. Because that is the capital of ISIS – the most evil, the most demonic force on the face of the planet. We need to take it down and we need to take out their capital."
Black drew some heat in April 2014 for sending an official letter to Syrian President Bashar Assad thanking "the Syrian Arab Army for its heroic rescue of Christians in the Qalamoun Mountain Range." It also praised Assad for "treating with respect all Christians and the small community of Jews in Damascus."
LISTEN MORE:
Black added that when the US joined forces with Turkey in Syria, it led to the creation of open supply lines from Turkey to jihadists in the IS stronghold of Raqqah. He said Turkey is "opening a wedge" so that supply lines to IS cannot be cut off.
Meanwhile, Turkey has conducted 300 airstrikes, only one percent of which attacked IS, Black said, adding that all of the others have been launched against Kurdish groups fighting IS.
Moving on to former Secretary of State Hillary Clinton, Black said that during her tenure she "put into place a series of actions to overthrow the secular governments in the Middle East, and to replace them with radical Islamic regimes."
"She has great connections, financial and otherwise, with Saudi Arabia, with Qatar, with Kuwait, with some of the tyrants with the Arab world," he added.
Black said that the US had tried to overthrow Egypt, but that 30 million people rose up and took their country back from the Muslim Brotherhood. However, he claimed that the US had succeeded in destroying Libya.
"Libya no longer has a government – it's simply a land of chaos and disorder."
You can share this story on social media: