Boehner to resign as Speaker, quit Congress in October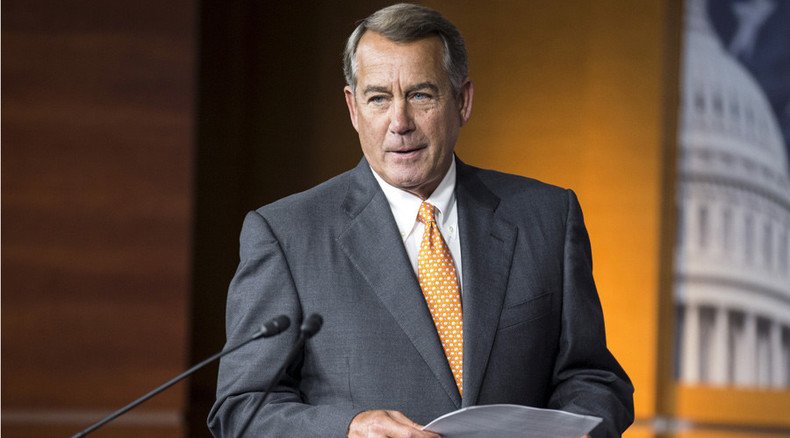 Speaker of the House John Boehner has announced he would resign and give up his seat in Congress at the end of October.
Boehner, a Republican from Ohio, became Speaker in January 2011, following the midterm election that gave GOP the majority in the House of Representatives.
"I was never in the legacy business," he said at the press conference Friday afternoon, shrugging off suggestions that the resignation was inspired by the papal visit or the rebellion in Republican ranks.
"It's become clear to me that this prolonged leadership turmoil would do irreparable harm to the institution" of the Speaker, he told reporters.
Boehner thanked his family, staff and constituents for electing him 13 times. He spent 25 years in Washington.
"Really, it's been wonderful," he said.
The announcement comes as Republicans square off with with minority Democrats over funding arrangements. The impasse threatens to cause a government shutdown on October 1.
In a statement released by an aide, Boehner said he would be resigning "for the good of the Republican Conference and the institution."
The aide told reporters that the Ohio lawmaker had originally planned to leave at the end of last year, but decided to stay on after the House Majority Leader Eric Cantor, a Virginia Republican, suffered a shocking loss in the primaries.
"He didn't give anyone a heads up. This was a complete surprise to all of us," said Representative Darrell Issa, a California Republican, according to the Washington Post.
Unhappy with Boehner's leadership, more than 30 Republican lawmakers have previously threatened a no-confidence vote, which would have forced him to rely on support from Democrats to remain in charge of the House.
He appears to have decided to leave on his own terms, rather than be ousted in a rebellion.
Though his colleagues were surprised by the announcement, Boehner appears to have hinted at it to reporters. On Thursday evening, he told two reporters — one from Politico and another from the Washington Post — that he had nothing left to accomplish after he brought Pope Francis to the Capitol, Politico reported.
"We don't simply want to move the deck chairs around," Louisiana Republican John Fleming told the Washington Post.
Fleming added that Boehner's move makes a government shutdown next week "highly unlikely."
A press conference was scheduled for 10 am, but at 10:45 minutes later an aide came out and told the reporters that Boehner had left "out the back door" and that he would not be speaking to the press after all.
One of the names mentioned as Boehner's possible successor is the current House Majority Leader Kevin McCarthy, a California Republican who has been in office for less than a decade.
California Republican Nancy Pelosi, current House Minority Leader and Boehner's predecessor when her party held the majority, compared the Speaker's resignation to a major earthquake.
Boehner's resignation was applauded by the more conservative Republicans.
"Speaker Boehner was not responsive to what activists wanted, and it shows through the terrible approval ratings of Congress. We need a new speaker that represents the entire caucus, not just the special interests in Washington," said Adam Brandon, CEO of the conservative advocacy group FreedomWorks.
You can share this story on social media: