'Toughest sheriff' in court for ignoring US judge's orders to stop racial-profiling patrols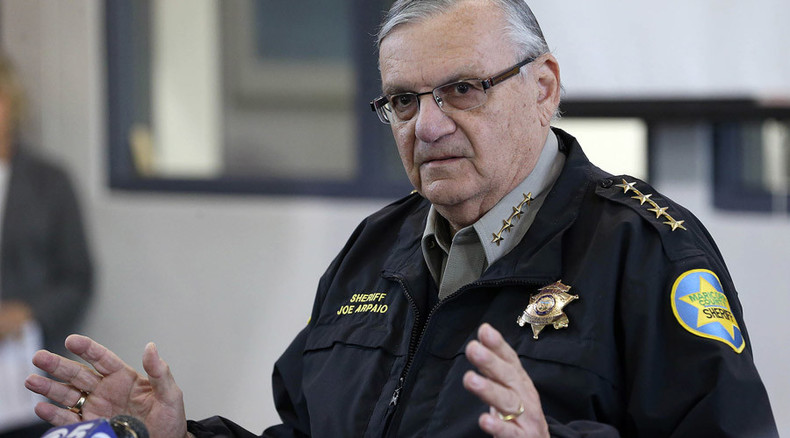 Sheriff Joe Arpaio of Maricopa County, Arizona – famous for his racial profiling and notorious immigration patrols, will take the stand again for contempt of court, after failing to halt his practices. His officers are also accused of disobeying court orders.
Arpaio could now face fines, as well as a criminal hearing on the same charge, according to The Arizona Republic.
It took the court five months, following heated discussions over evidence and other delays, before it was decided the hearings would resume for another round on September 24 in a US District Court.
READ MORE: 'Toughest sheriff' in court for contempt after violating immigration order
The Sheriff did confess to carrying out his signature patrols for a period of 18 months after being told to stop. He also tried to conceal traffic-stop recordings made prior to his 2012 racial profiling trial.
The man likes to be known as 'the toughest sheriff' in the country, but the 83-year-old veteran's troubles don't end there.
Arpaio also tried to have the presiding judge investigated and taken off the case. The sheriff's officers were also found to have been pocketing identification documents during raids, as well as traffic stops. It was incidents like these that led Judge Murray Show to accuse the sheriff of regular racial profiling of Hispanics in Maricopa County.
He was in court again in April for failing to stop racial profiling. The trial was predicted to only last for four days, which would see the court look into the non-disclosure of evidence in the original (2012) profiling case, as well as Arpaio's immigration patrols and the failure of his officers to carry out the judge's earlier request to gather on-duty recordings from fellow officers in a quiet and effective manner.
Arpaio's officer's stand accused of disobeying a total of three court orders during the ongoing racial profile trial. The court will now also determine whether this was deliberate.
The first to testify during Thursday's trial will be his deputy, Jerry Sheridan, who has already admitted to disobeying two of the judge's orders.
The sheriff's office will now be closely scrutinized. However, it will come at a cost, which is expected to reach $50 million by the summer of 2016, with the money being spent on surveillance equipment and legal fees amongst other things, according to AP.