'Make our metro work': 5 weird & moving requests Pope got during US visit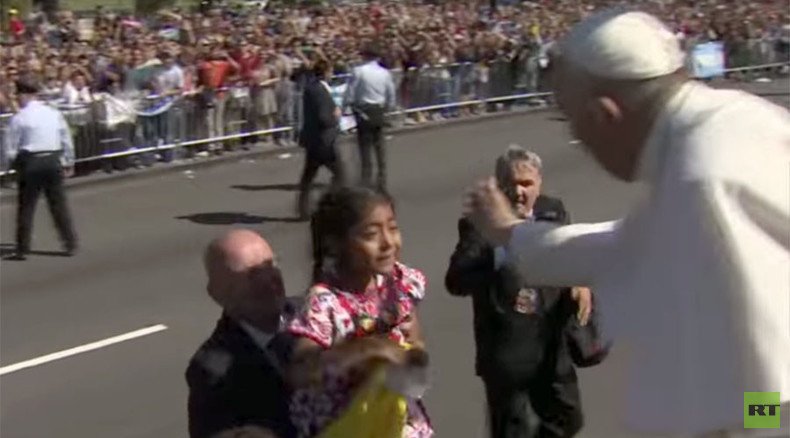 The Pope is accustomed to receiving requests to heal the sick or pray for the poor. However, during his first visit to the US, Pope Francis has received some rather unorthodox requests, ranging from solving the nation's gun problems, to healing a star footballer's knees.
Pope asked to solve DC metro problems
Noah Rosenheck is a Washington DC native and like most locals, he has grown accustomed to the problems experienced on the city's metro system. Unable to get it working himself, he has appealed to higher powers and has asked Pope Francis to ask for divine intervention to make his daily commute more bearable. What initially started out as a joke, has now started to gain momentum, with Rosenheck's "pain" being shared by another 2,600 people, who have all signed a petition he started.
Others are catching on to Rosenheck's smart thinking, with citizens from New York City asking the pope to fix their subway system when he has finished in DC.
Football fans want 'healing' powers
Millions of NFL fans are used to praying every season so that their side can get that vital victory, which will hopefully see them make the post season, or beyond. But with Pope Francis in the country – why not ask him directly?
This is exactly what supporters of the Philadelphia Eagles have done. The team has lost their opening two games, while much of their hopes this season have been placed on quarterback Sam Bradford.
The supporters are desperate for him to stay fit and have asked Pope Francis to "bless his knees" during his visit to Philadelphia. As of Wednesday evening, more than 6,000 people had signed the petition.

5yo girl asks for parents to stay in US
Five-year-old Sophie Cruz was so desperate to get her prayers answered that she broke through a security cordon to try and approach the Popemobile, as the pontiff made his way through the streets of Washington. The plucky youngster, who wanted to ask Pope Francis to help her immigrant parents stay in the US, ran up to the vehicle and received a kiss on the cheek and a blessing.
The little girl also handed Pope Francis, who is sympathetic towards the plight of migrants, a letter explaining her family's quest to try and stay in the US.
Sophie isn't stopping there – she also wants to deliver a copy to US President Barack Obama.
Pope asked to halt gun violence
Activists from the 'Women Against Gun Violence' group have asked the pontiff to try and help solve one the most pressing issues in the US. With eight children dying every day as a result of guns, Pope Francis has been asked to speak out about the problem of gun violence, when he addresses Congress on Thursday.
Comic pleads with pontiff to get money out of politics
Late Night Show host Stephen Colbert is in a better position than most to try and get a message out to the public However, it seems not even this is enough as he has made an appeal to Pope Francis to call for better financial transparency involving the US political process.
He says that it is impossible to try and solve problems surrounding poverty, while there is so much money in US politics.
You can share this story on social media: