Dukes of Hazzard combine: Kansas man 'recklessly' leads police on chase in farm vehicle (PHOTO)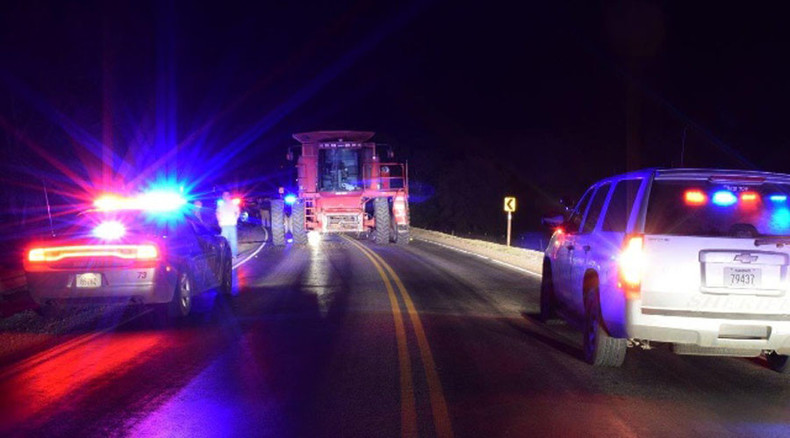 A Kansas man led police on a dixie-style car chase: stealing a combine, "racing" down the road, ramming a patrol car, striking power lines and hitting a car before finally stopping. Police ultimately fired at the combine to disable it -- just like on TV!
The incident started when the Barton County Sheriff's Office dispatched a patrol car to respond to a 911 call reporting that someone was recklessly driving a combine down the road.
Ellinwood police arrived on the scene and attempted to contact the driver and owner of the combine, who was identified as 37-year-old Kenneth Lamb Jr.
However, Lamb refused to obey and instead put the machine in reverse, rammed the police vehicle and drove away.
Lamb then roamed through a residential neighborhood in Ellinwood, striking several power poles and a pickup truck, and tearing the corn head off the combine, local KWCH reported.
The chase stretched on for several streets and then headed south from Ellinwood to the Barton County limits.
At that point, a sheriff's deputy managed to outrun Lamb's combine and block the road.
Both Ellinwood police and the Barton County Sheriff's Office fired on the combine, ultimately stopping it, as they considered Lamb a threat to themselves and the community.
Lamb was eventually arrested. He faces charges of aggravated assault against a law enforcement officer, felony theft, felony criminal damage to property, and reckless driving, KWCH reported.
The news channel did not report whether Lamb had been drunk or on drugs.