NSA spied on entire Iranian UN delegation in 2007 – report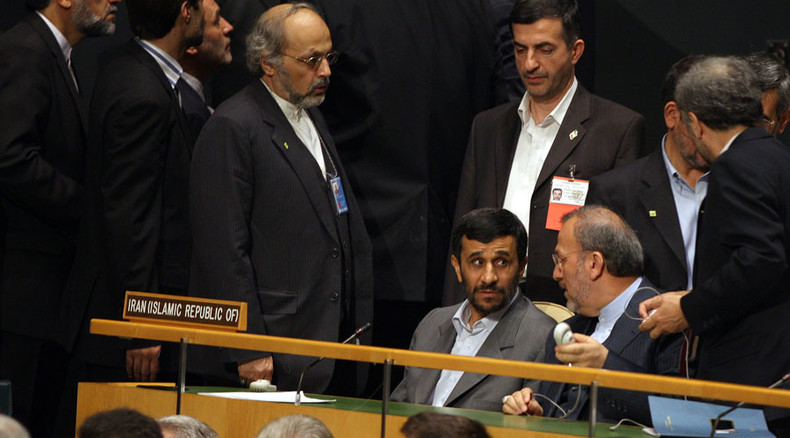 The US National Security Agency eavesdropped on the entire Iranian delegation at the 2007 UN General Assembly, and it will likely spy on Tehran as well as other foreign leaders at this year's meeting as well, according to a new report by NBC News.
READ MORE: Data sharing deal with US must end due to 'mass surveillance' – EU court advisor
Citing a top secret government report and former intelligence officials, NBC stated that the NSA conducted surveillance on Iran's then-President Mahmoud Ahmadinejad and all 143 members of his UN delegation. This expansive effort reportedly included tapping phones and bugging the hotel rooms of each individual, as well as intercepting Skype discussions and video conferences.
Additionally, intelligence officials created detailed, constantly-updated spreadsheets on all members of the Iranian delegation, including their names, titles, and passport numbers, according to the document, titled "Tips for a Successful Quick Reaction Capability." This purportedly helped US officials delve into the connections of various Iranian officials.
When Iran's UN delegation arrived in New York for the UN assembly, three teams composed of five or six people worked nearly 20 hours a day in order to record and transcribe the conversations they were snooping in on. Some 2,000 conversations were analyzed each day, according to NBC.
The effort was initiated after the NSA went to then-President George W. Bush and asked for what NBC described as "blanket surveillance" of Ahmadinejad's visit. This request was ultimately approved by the secretive Foreign Intelligence Surveillance Court, which grants surveillance permissions.
According to former intelligence officials who spoke to NBC, the US will likely conduct similar surveillance operations on foreign delegations this year.
Asked Zarif 2 react to report that NSA has bugged #Iran's UN delegation under AhamdiNejad & likely continues to do so: "Are you surprised?"

— Bahman Kalbasi (@BahmanKalbasi) September 23, 2015
Notably, the Iranians apparently believed that the US would try to spy on them and "cleared" conference rooms before speaking, according to Banafsheh Keynoush, who worked as Ahmadinejad's translator at the time.
"At a general level, [the Iranians] have always felt such bugging would take place, but have probably been unaware of the scale of it," Keynoush told NBC. "I don't believe personally that much intelligence that would make the Iranians uneasy could be gathered from these events, because the Iranians would likely mindfully not engage in secretive conversations while in the U.S."
The news comes in the wake of the successful completion of a major nuclear accord between the US, Iran and five other world powers. The agreement will see economic sanctions against Tehran lifted in exchange for a drastic reduction in the country's nuclear capabilities. Iran will also allow international inspectors access to nuclear sites.
You can share this story on social media: