2 down, 114 to go: Second Gitmo detainee transferred in a week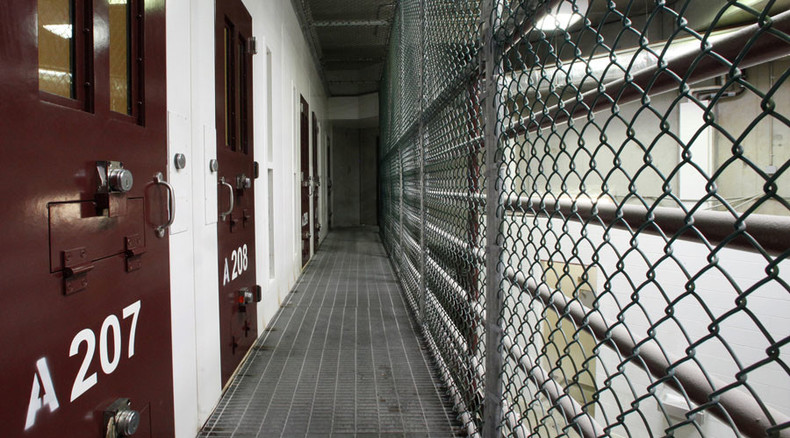 The US has transferred another detainee from the controversial Guantanamo Bay prison complex in Cuba, marking the second transfer in less than a week. The prisoner was sent back to his native home in Saudi Arabia. However, 114 detainees remain in custody.
Abdul Shalabi, 39, was repatriated after a Periodic Review Board "determined continued law of war detention of Shalabi does not remain necessary to protect against a continuing significant threat to the security of the United States," the US Department of Defense announced in a statement on Tuesday.
Shalabi had been detained for more than 13 years, according to government documents cited by the New York Times. He also participated in a nine-year hunger strike protesting his continued detention, with authorities feeding him through a nasogastric tube.
"The United States is grateful to the government of the Kingdom of Saudi Arabia for its willingness to support ongoing US efforts to close the Guantanamo Bay detention facility," the Defense Department said in a statement. "The United States coordinated with the government of the Kingdom of Saudi Arabia to ensure this transfer took place consistent with appropriate security and humane treatment measures."
The former detainee was described as a "long-term bodyguard" for former Al-Qaeda leader Osama Bin Laden. He had been trained "as a suicide operative in an aborted component" of the September 11 terrorist attacks, according to Defense Department documents. Shalabi also allegedly participated in hostilities against the US and coalition forces during the war in Afghanistan before being captured by the Pakistanis along the border.
However, Shalabi was never charged with a crime during his detention.
The key to the transfer's approval was Saudi Arabia's rehabilitation program, the review board stated in an unclassified summary obtained by the NY Times. Shalabi's brother had been transferred out of Guantanamo to Saudi Arabia during George W. Bush's presidency. His rehabilitation has reportedly been successful.
"The board also considered the detainee's well-established family, their willingness and ability to support him upon his return, and their prior success in assisting with the rehabilitation and reintegration of a former Guantánamo detainee," the board said in the statement.
With Shalabi's release, there are now 114 people left at the controversial detention center. Although President Obama promised to shutter Guantanamo as part of his original campaign platform, the ability to close the facility has eluded him.
In August, numerous reports stated the White House was looking to renew efforts to close Guantanamo. Fifty-two detainees have been cleared for transfer but have not been moved yet, while the Obama administration is looking to bring others for continued detention in US prisons.
LISTEN MORE:
You can share this story on social media: