'Toxic levels of bulls**t': Jon Stewart urges Congress to renew 9/11 responders' benefits fund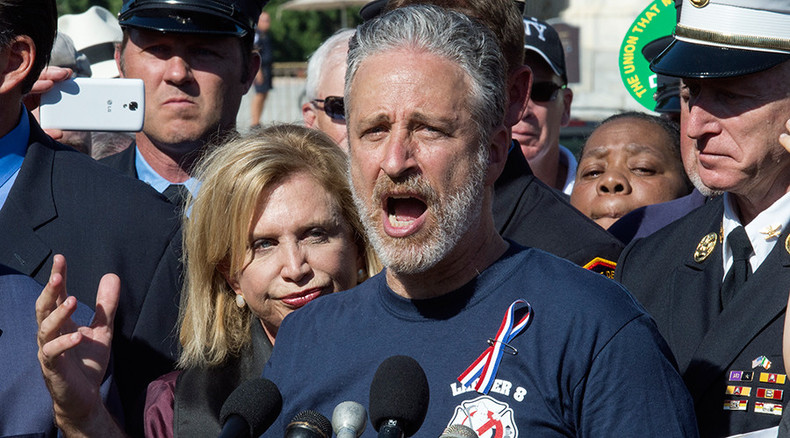 Comedian Jon Stewart headed to Capitol Hill on Wednesday for a deadly serious reason: To fight for federal health benefits for 9/11 first responders. He also warned them that the fallout from the terrorist attacks was not the only danger they faced.
"Today on the Hill, you will be exposed to possibly toxic levels of bullsh*t and arrogance. You're strong men and women. But these are conditions you may never have faced before. Buckle your seatbelts, and let's get this done," Stewart said at a rally on the steps of the Capitol.
The former 'Daily Show' host expressed dismay that his plea was even necessary, condemning lawmakers for not renewing the first responders' benefits automatically.
"I want to apologize to all the men and women, the first responders, that you had to come down here today. I'm embarrassed. I'm embarrassed for all the country. I'm embarrassed for New York," he told those who worked selflessly at Ground Zero in the hours, days, weeks and months after airplanes struck the World Trade Center 14 years ago.
"I'm embarrassed that you, after serving so selflessly with such heroism, have to come down here and convince people to do what's right for the illnesses and difficulties that you suffered because of your heroism and because of your selflessness," he added.
Stewart is advocating for Congress to reauthorize the James Zadroga 9/11 Health and Compensation Act. The law was passed in 2010, and helped to ensure proper monitoring and treatment for first responders and survivors who face potential life-threatening health effects as a result of the attacks. The act is set to expire in October, although payments to the designated recipients would continue into 2016.
Joined by about 100 first responders, the comedian urged federal lawmakers not to let the old act lapse before passing the renewal bill.
"If you have stage-four cancer and you get a letter of notification saying the medicine that you rely on may be ending in a year, that to me is an urgent care situation," he said. "Why is it incumbent on our first responders to have to consistently push to get the benefits that are coming to them purely for their acts of valor in a wartime situation."
You can share this story on social media: