American teen arrested for alleged ISIS-style plot against Pope Francis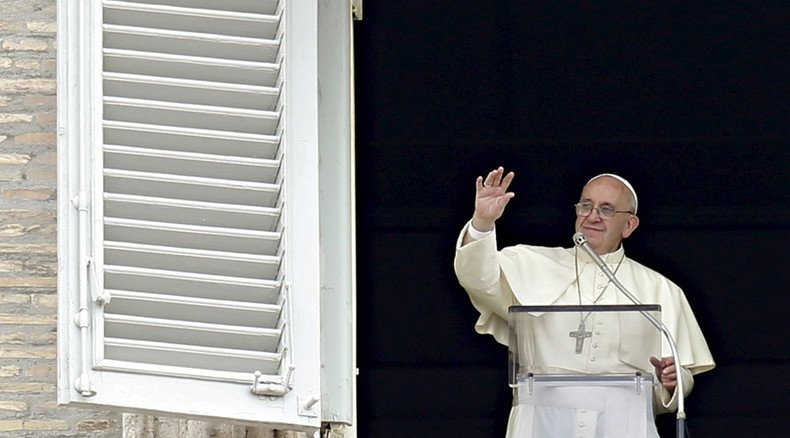 A 15-year-old Philadelphia boy has been arrested over an alleged threat to launch a "homeland attack…targeting a foreign dignitary," the FBI and the Department of Homeland Security said in a joint briefing. ABC News reported that the target was Pope Francis.
"The minor was inspired by [ISIS] and sought to conduct a detailed homeland attack which included multiple attackers, firearms and multiple explosives, targeting a foreign dignitary at a high-profile event," read the brief, which was issued on August 14.
Although the dignitary was not named in the brief, ABC cited unnamed sources, stating that Pope Francis was the target.
The boy's identity has not been revealed, but the government said that the plot had been aspirational rather than planned. A source also told ABC that there had been questions as to the boy's mental health.
"The minor obtained explosives instructions and further disseminated these instructions through social media," according to the joint intelligence bulletin. The teenager was discovered to have had multiple firearms in his possession and was allegedly inspired by Islamic State (IS, formerly ISIS/ISIL).
He was charged with attempting to provide material support to a terrorist organization and attempting to provide material support to terrorist activity, the bulletin added.
ABC reported that the bulletin had noted "several recent instances" that "demonstrate some youth are vulnerable to messaging from [ISIS] and its supporters."
"These incidents also show that some US-based youth are willing to connect over social media with like-minded persons, and have proven adept at obfuscating such social media usage from their parents and guardians," the bulletin added.
There were no details on how the teenager was identified by the FBI, who the 'multiple' attackers were, or further details on the alleged threatened attack.
Additionally on Tuesday, a judge ordered a mental evaluation for a young Florida man who the FBI arrested last week, accused of sending bomb-making plans to an informant for an attack at a 9/11 anniversary event in Missouri.
According to a separate story by ABC, Joshua Goldberg, 20, appeared in federal court in Jacksonville on Tuesday for a hearing about his detention, but the judge sent him to a mental health facility in North Carolina for 30 days.
Goldberg lived with his parents when he was arrested last week after posting on social media under the moniker "Australi Witness" and others. In its complaint, the FBI said Goldberg had called for an attack on a contest featuring drawings of the Prophet Mohammed in Garlan, Texas and boasted about helping plan attacks on synagogues in Australia.
Agents traced the messages to Goldberg's address and arrested him after weeks of surveillance. Goldberg's arrest is the latest in a series of arrests conducted by the FBI over the course of the year.
Authorities have already begun preparing tight security for when Pope Francis, the leader of the Catholic Church, is scheduled to make his first visit the United States next week since the start of his papacy.
The five-day visit is set to be a landmark event with activities in Washington, D.C., Philadelphia and New York.
You can share this story on social media: