'Never forget': Florida gun store offers 'Muslim' coupon for 9/11 anniversary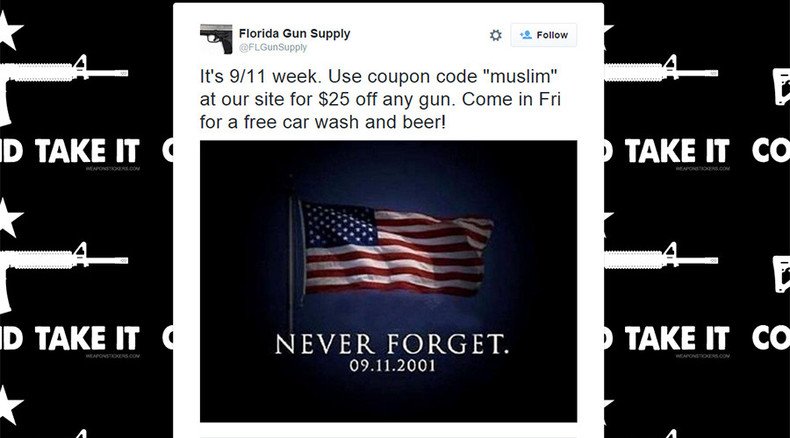 Courting controversy again, a Florida gun shop used Twitter to offer a free car wash and beer in remembrance of the September 11 terrorist attack, plus $25 off any gun purchased online with the coupon code "Muslim."
"At the end of the day, I am compelled to stand up for what I believe in. And I believe Islam is evil at its core," Andy Hallinan, owner of Florida Gun Supply, told MSNBC.
The Twitter post featured an image of the American flag with the caption "Never Forget" and the date 09.11.2001. It also featured text saying: "It's 9/11 week. Use coupon code "muslim" at our site for $25 off any gun. Come in Fri for a free car wash and beer!"
Hallinan also displayed the same image on his Facebook page, but without any mention of the coupon code "muslim."
Hallinan told MSNBC he doesn't believe "every Muslim is evil at their core."
"But I do believe that the extreme political correctness in the US leads to loss of life. And that's why I have promotions like these designed to combat that kind of political correctness."
Hallinan couldn't tell the network how many people had taken advantage of his 9/11 promotion as of Friday afternoon, though he did say he'd been "washing cars all day."
It is not the first time Hallinan's PR antics have created a hullabaloo. He rose to national prominence in July by declaring his gun shop a "Muslim free-zone" following the shooting massacre in Chattanooga, Tennessee that left five US service members dead. The lone American gunman, Mohammad Abdulazeez, 24, was an electrical engineer and grew up in a conservative Muslim family.
To announce the ban, Hallinan released a video in which he stood in front of a Confederate flag and said the Tennessee attack hadn't been an isolated incident, but was, rather, related to other "terrorist attacks." He also offered free concealed-carry classes at his store as well as shooting range visits, imploring viewers to "take this opportunity to get armed, get trained and carry daily."
He went on to say that he had declared his store a "Muslim-free zone" in order to meet his "moral and legal responsibility to ensure the safety of all patriots in my community."
In response, the Council on American-Islamic Relations (CAIR) issued a statement calling on the Justice Department to investigate any possible federal civil rights violations by businesses in Florida and New Hampshire that sought to ban Muslims.
"These bigoted declarations are no different than 'whites only' signs posted in businesses during a period of our nation's history that we had hoped was over," said CAIR National Communications Director Ibrahim Hooper about the prohibition.
"The Department of Justice must investigate these hate-filled and un-American business practices to determine whether federal civil rights laws are being violated."
You can share this story on social media: