NYPD releases video of cop slamming tennis star James Blake to sidewalk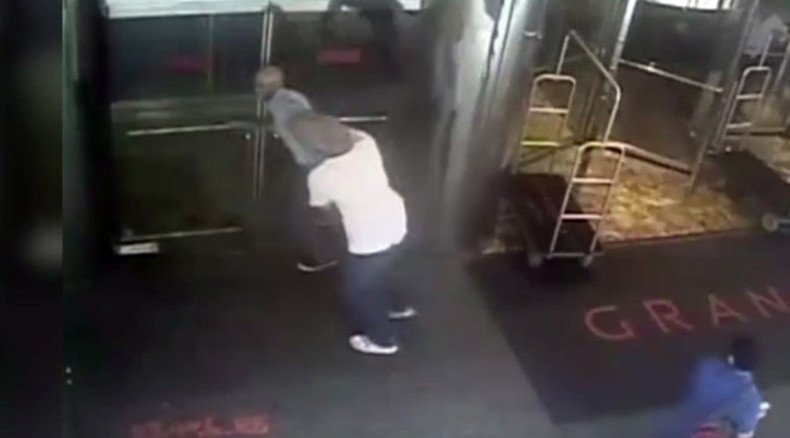 Surveillance videotape released by the New York Police Department shows Officer James Frascatore ambushing tennis star James Blake in what appears to be a startling, illegal arrest. Frascatore has been sued four times for excessive force in the past.
Missing from the surveillance tape, released on Friday, is any indication that Officer Frascatore, 38, followed procedures or read James Blake his Miranda rights before arresting him.
On releasing the video, the NYPD issued a statement saying the Internal Affairs Bureau had interviewed Blake about the incident on Thursday.
"The NYPD is releasing video footage from the September 9th incident outside of the Grand Hyatt Hotel in Manhattan…The investigation is still ongoing," said Deputy Commissioner Stephen Davis in a statement.
The roughly one-minute surveillance clip opens with Blake standing in the middle of the frame at the entrance to the Grand Hyatt when, suddenly, a plainclothes police officer (Frascatore) runs into the picture from the right, slamming into Blake and grabbing him by the left arm, as Blake moves away.
The officer grabs Blake by the back of the neck before aggressively swinging him around and shoving him to the ground, forcing him to lay face down. Blake doesn't appear to be resisting arrest.
Once on the ground, Frascatore pushes his knee into Blake's lower back while grabbing his arms and pulling them back to handcuff him. Then the cop rolls the tennis star over and up into a sitting position, before bringing him to his feet and marching him away.
The arrest occurred on September 9, when the police officer mistakenly identified Blake as an identity thief. The next day, Police Commissioner William Bratton apologized for Frascatore's behavior. The attacking officer has been stripped of his badge after four years on the force.
This is not the first time Frascatore has been accused of using excessive force during an arrest. He is reportedly a defendant in four ongoing civil cases claiming he and several other officers used excessive force during false arrests.
One lawsuit named him in a 2013 incident when he allegedly pulled over a Queens driver and demanded his identification but did not say why.
The plaintiff, Leroy Cline, asked, "Officer, what am I being pulled over for?"according to WNYC.
Frascatore responded by opening the car door and giving Cline three straight punches to the mouth.
Frascatore claimed Cline had attacked him and bit his fist, and that he had sustained "permanent" injuries while trying to arrest him. The officer is counter-suing, arguing he "became sick, sore, lame and disabled…(and) has been permanently injured," the lawsuit states.
There were three other incidents, all in 2013.
A January 2013 incident involved Frascatore and other cops who pinned a man named Warren Diggs to the ground for riding his bike on the sidewalk and beat him to the point of concussion.
Another lawsuit involved four officers accused of attacking and repeatedly pepper-spraying a Queens man inside a convenience store for no apparent reason. Stefon Luckey, an EMT, was handcuffed and released without charges.
Luckey told the New York Daily News he wasn't surprised to find out Frascatore was the cop who tackled Blake.
"I don't think the police force is for him," he told the outlet. "He called me the N-word. He used excessive force for no reason, like he has a temper problem."
In another incident in June of 2013, Frascatore and five unnamed cops "viciously and violently" beat up another Queens resident, Samuel Pringle, during an arrest without any warrant.
Frascatore also has had at least five complaints lodged against him with the Civilian Complaint Review Board.
You can share this story on social media: