All-male combat units outperform units that include women – study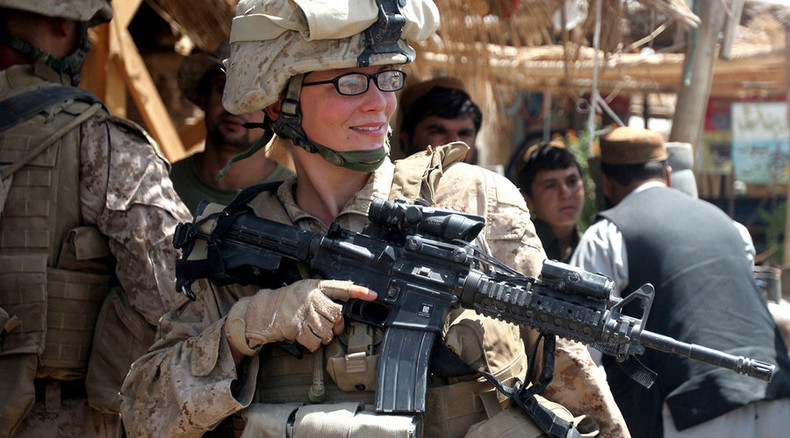 Exclusively male ground combat unites outperform their mixed-gender counterparts in every capacity, according to the results of a Marine Corps study revealed on Thursday, raising concerns about the recent push to make all combat roles available to women.
The months-long experiment on gender integration produced data showing that traditional all-male units complete tasks faster, fire more accurately, and are able to evacuate casualties in a shorter period of time than units that include women. Additionally, female marines suffered injuries at higher rates during physically demanding training, officials said.
The experiment also allowed women to take part in training programs that had previously been closed to them for the first time. Those results were similarly damning for the gender equality narrative: While 71 percent of men successfully graduated from the Infantry Officer Course, not one woman managed to pass in 29 attempts.
"The true basis of this was to gather some hard qualitative metrics on what we would expect to see in combat effectiveness," said Paul Johnson, the integration experiment's principal investigator. "Is every member of the group contributing equally to the outcome? That's important to know."
A battalion was created from 300 male and 100 female volunteers for the integration experiment, which cost the Marine Corps a total of $36 million, according to the Marine Corps Times.
A team from the University of Pittsburgh recorded athletic and physiological data from each volunteer before, during, and after the experiment, according to the Times. The overall differences between male and female participants may explain the performance disparity between all-male and integrated units.
Among their findings were that female Marines averaged 15 percent lower levels in anaerobic power and capacity than their male counterparts. In anaerobic power performance, the top 25 percent of female performers and the bottom 25 percent of male performers overlapped, meaning that the strongest women had the same power as the weakest men.
Additionally, women suffered from musculoskeletal injury at more than double the rate of men, coming in at 40.5 percent and 18.8 percent respectively.
This shouldn't be taken to mean that women make worse Marines than men, per se, Colonel Anne Weinberg, deputy director of the Marines' Force Innovation Office, noted.
"I would characterize this as: There's more to be learned," Weinberg said. "There's an opportunity to train and become stronger and to execute these tasks in a more lethal manner."
The Marine Corps and other branches of the US military are facing a Pentagon-imposed deadline to allow women in all roles by January 1 of next year. The services have until the end of this month to request an exception to this decree, according to USA Today.
The Marine Corps has not yet commented on whether it will request a waiver.
The Pentagon first lifted the ban on women in combat in roles in January 2013. Women currently make up 7 percent of the Marine Corps, which is the most male-dominated of any service of the military.